Quoted: The Aftermath Edition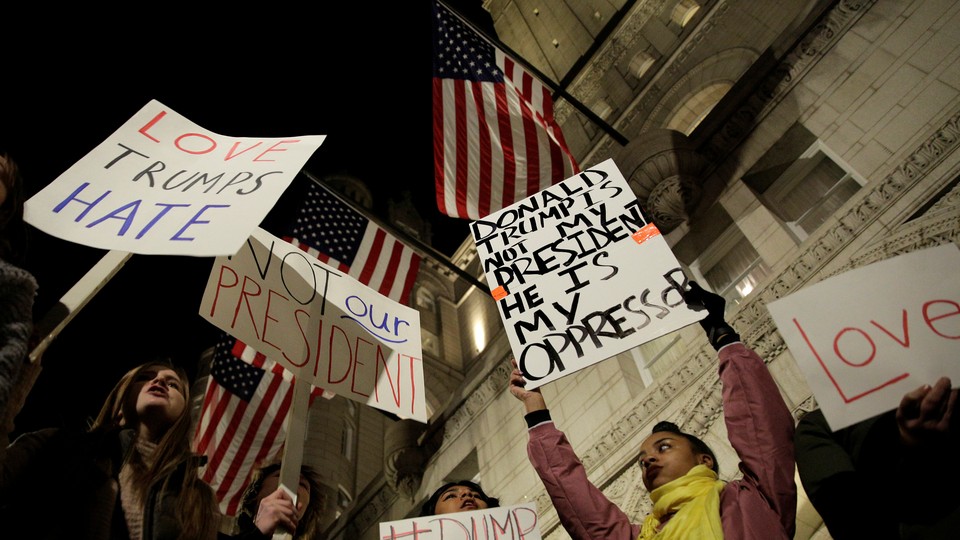 Editor's Note:
This article previously appeared in a different format as part of The Atlantic's Notes section, retired in 2021.
"I feel like I've been reborn. This is a new nation," —Stephanie Jason, who supported Donald Trump for president.
"I'm afraid for my grandchildren," —Mary Frillici, who supported Hillary Clinton for president.
"He can build a wall, but we'll just build a tunnel," —Magdaleno Santos, a construction worker who immigrated to the U.S. from El Salvador, on Trump's immigration policy.
"He has an opportunity, but it is up to him to seize it," —Henry Kissinger, the former secretary of state, on how Trump could change public perceptions of America's role in the world.
"We're stronger together. I think it would be really swell if people connect to the other side," —Kibiriti Majuto, a refugee student, who is president of his senior high-school class.
"Please, I'd like to join the discussion," —Bradley, an Atlantic reader, in a single-line email to us.
You and Bradley and other readers can do so via hello@theatlantic.com. We've already started two robust discussion threads here in Notes: "Processing the Pain of the Election," which primarily features stories from Clinton supporters, and "Will Trump Voters and Clinton Voters Ever Relate?," which primarily features stories from Trump supporters—but with a lot of crossover in both threads. We will also be airing perspectives from educators on how they are addressing the aftermath of the election, as well as reactions from non-Americans living outside of the U.S.