America by Air: Coasting Past a Nuclear Reactor
Editor's Note:
This article previously appeared in a different format as part of The Atlantic's Notes section, retired in 2021.
Our list of power plants continues to grow: a nuclear one over Michigan, a bunch of wind turbines over Colorado, some solar panels with crop circles in Arizona, a pair of coal-fired plants in Iowa … and now another nuclear one, this time on the California coast (followed by a bonus AbA photo from a new state—Maine!):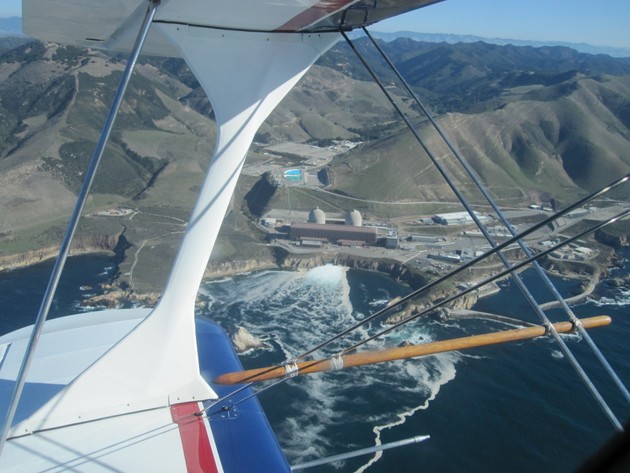 Here's the Pacific Gas & Electric nuclear reactor at Diablo Canyon, near Avila Beach, California. The picture was taken from the front seat of a Pitts Special biplane. The Diablo Canyon plant has churned out energy for the state of California for over 30 years but may finally succumb to requests for its closure from environment groups.
Not if local Ellie Ripley can help it. From her letter to the editor of The San Luis Obispo Tribune:
For 40 years, the anti-nuclear groups have been spouting off about how unsafe, poorly designed and outdated Diablo Canyon nuclear power plant is. Where are their credentials? Have they had any training, any experience in nuclear? Clearly they have not. They make their claims without any truth-based facts.

Diablo Canyon has been producing power for more than 30 years that has proven safe, clean, affordable and reliable. Shutting down Diablo Canyon would be trading 2,250 megawatts of clean, nonpolluting energy to substitute it with fossil fuel which will be needed to back up intermittent renewable energy. Where is the sense in that?
Another Tribune reader looks at the cost factor:
[R]eplacing Diablo Canyon requires 14 500-megawatt solar farms. Solar farms like the Topaz facility take three years to build and cost about $2.4 billion each. Building two a year it would take seven-plus years, 133 square miles of land and cost $33.6 billion. Guess who pays the $33.6 billion!
Circling back to wind turbines, here's an AbA submission from a reader flying above "Vinal Haven Island, Maine, on the way to and back from Portland":
With Maine now checked off the list of states we've covered in America by Air, only eight remain: Connecticut, Georgia, Mississippi, New Mexico, North Dakota, Rhode Island, Vermont, and West Virginia. Do you happen to have a good photo above one of those states? We'd love to post it: hello@theatlantic.com.