America by Air: A Peak Through the Clouds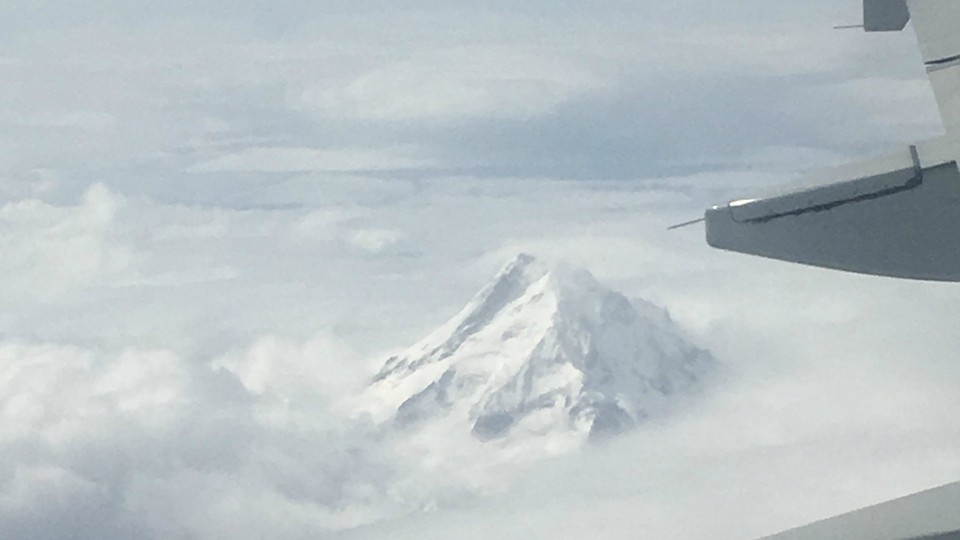 Editor's Note:
This article previously appeared in a different format as part of The Atlantic's Notes section, retired in 2021.
Graham Hankey, a reader who previously paraglided over Idaho, sends a lovely shot of Mt. Hood, looking so close you could step out onto the summit—which in fact he did:
I fly into Portland frequently, and Hood is always impressive when the weather is clear. The mountain is a sentinel watching over the Columbia River Valley. This day in July 2016 was very cloudy, and I expected no views. But the undercast cracked just enough to reveal the upper slopes and summit of the 11,250-foot mountain.

It was a good omen to see the mountain, as I planned to climb it a week later. My climb was successful; I enjoyed splendid visibility and reached the summit at 6:15 a.m. after a five-hour slog up the south-side climbing route, accessing the summit ridge via the Old Chute. Climbers try to get up and down before the sun warms the ice too much and produces ice and rock falls. Once on top, I was just a little lower than my Jet Blue photography platform of a week earlier.  
I get very homesick for Oregon mountains, cloudy surroundings and all. When I was growing up in Portland, no summer was ever complete without a road trip out to Hood, and no road trip was ever complete without at least a few promises from my dad that the heavy layer of clouds on the horizon would "burn off" by the time we got there. He was usually right, luckily. Driving out of the Willamette Valley, the clouds would part to reveal a brilliant blue sky and even more mountains—like the one in Graham's second photo, looking south from the summit of Mt. Hood toward Mt. Jefferson. And here's another shot from Graham looking north into Washington state, displaying the three distant peaks of St. Helens, Rainier, and Adams (from left to right):