America by Air: Burning Coal in the Corn Belt
Editor's Note:
This article previously appeared in a different format as part of The Atlantic's Notes section, retired in 2021.
We've got a great little tangent going within America by Air of photos above power plants—first a nuclear one over Michigan, then a wind-powered plant over Colorado, then a solar-powered plant in Arizona. The reader who sent the latter one, Adam Feiges, delivers again: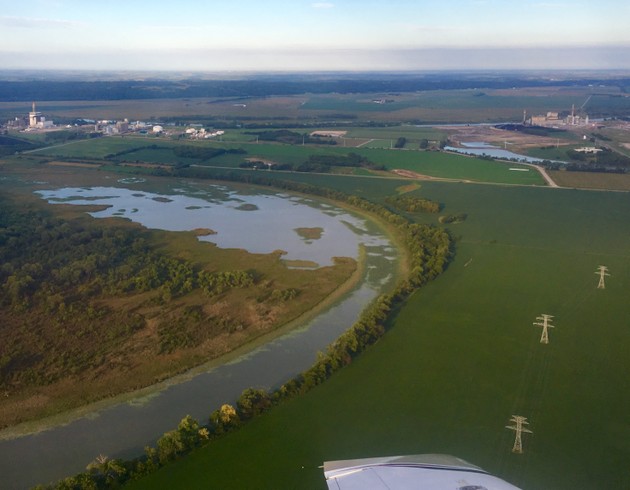 You requested a coal-fired power plant and here you get two for the price of one: the South and North units of the George Neal Power Complex located in rural Woodbury County in western Iowa. These generating stations power a considerable portion of the agricultural economy in the heart of the Corn Belt, and they've survived flooding, explosions, tornados, and consent decrees.

In the foreground of the shot is Browns Lake, an ox-bow lake marking a vestigial course of the Missouri River that today flows in a man-made channel barely visible on the far side of the two power plants. The influence of human activity on the landscape represented in this photo is all encompassing: the course of a major river, the massive piles of Wyoming coal, the forest cover on the Nebraska hills in the background, the massive industrial complexes, and the farm fields that cover most of the ground are all anthropocentric artifacts. Only the ox-box lake and the wetlands on the interior of the loop are remnants of the natural world, and even they are heavily influenced by the power plants since they are part of the water management process that cools the outflow from the facilities.
What's next in this sub-series of power plants—a hydroelectric dam perhaps? Drop us a note if you have any good ones to share: hello@theatlantic.com.