America by Air: Preserving a Piece of the Heartland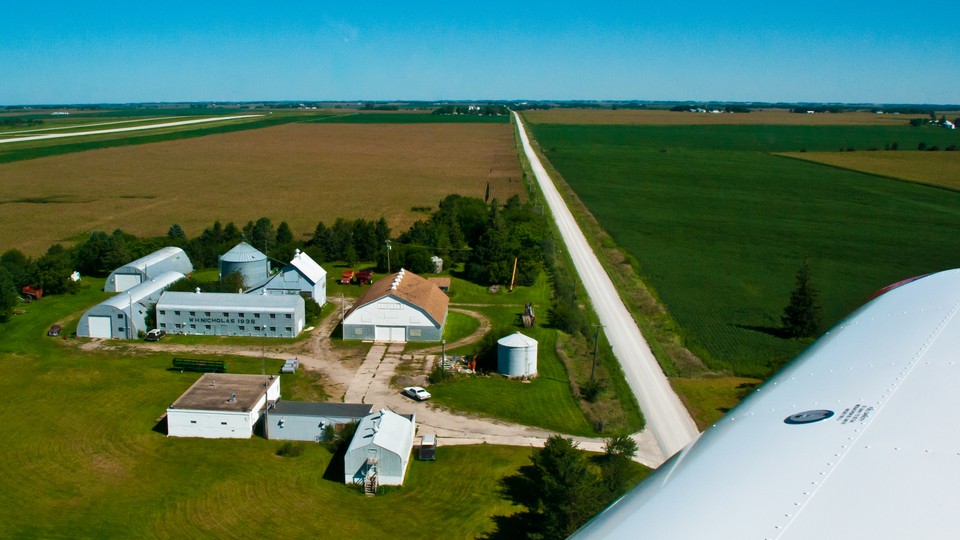 Editor's Note:
This article previously appeared in a different format as part of The Atlantic's Notes section, retired in 2021.
Ray Wasilewski of Clive, Iowa, sends a perfectly framed photo that his wife recently took from the passenger seat of the plane he was flying:
In August, Iowa begins to change. We still have the beautiful green from the crops that thrive in our soil, while colors are beginning to change as we approach harvest. In this picture taken near Mason City, Iowa, you can see much of what it means to live in America's heartland. The pride of the people who care for the land jumps out at you. Large farm equipment stands at the ready, and the classic car near the Quonset hut barn makes it easy to believe you are viewing a scene from the past. Seeing this perspective, both the history and the new growth, is a special feeling.

The farm has an aviation connection: In 2000, the Mason City Airport was planning an expansion, and the location of this farm—not far off the end of one of the runways (you can see one runway at the top-left of the photo)—meant it would need to go. But people fought back, and 16 years later the farm is still there. As a pilot, I'm a big supporter of airports, but I'm happy to have this view when landing at that great airport.
With their fantastic photo, Ray and Cindy also cross Iowa off our list of 50 states to cover for America by Air. We're now down to single digits—CT, GA, ME, MS, NM, ND, RI, VT, WV—so if you have a great aerial view from one of those states, please send our way.