America by Air: Gliding Over Idaho
Editor's Note:
This article previously appeared in a different format as part of The Atlantic's Notes section, retired in 2021.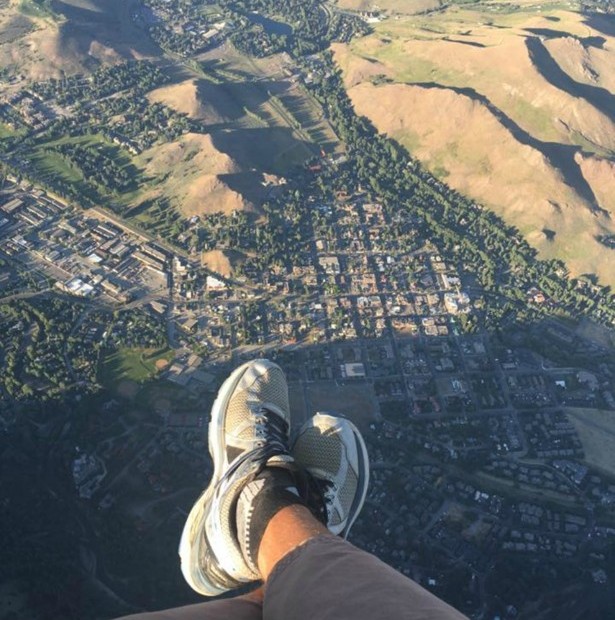 We usually prefer images that include a piece of the plane or other aircraft, but reader Graham—hovering here over Ketchum, Idaho—included his own feet:
I was on a hiking and biking vacation in Ketchum, Idaho, and decided to try paragliding (much to my wife's chagrin) after watching several gliders launch from the summit of Mt. Baldy, the major ski mountain in the valley. I contacted Fly Sun Valley, the only licensed paragliding outfit in the area, and made arrangements for a tandem flight the next evening before sunset.

The flight was incredible. We sailed for 25 minutes, launching from Baldy's summit and heading west while we gained another 1,000 feet of altitude, and then turned and came back across the mountain at 10,000 feet and slowly began descending into Sun Valley, making a series of lazy circles before landing in a large field just outside of Ketchum. I was able to take many pictures on my iPhone (permissible, but I was warned that several phones had been dropped, never to be seen again) and even shoot a video. The experience was wonderful—a great perspective to see a beautiful part of America.
Beautiful, indeed. Here's Graham's shot looking into the Sawtooth Wilderness, with the resort town of Sun Valley in the foreground: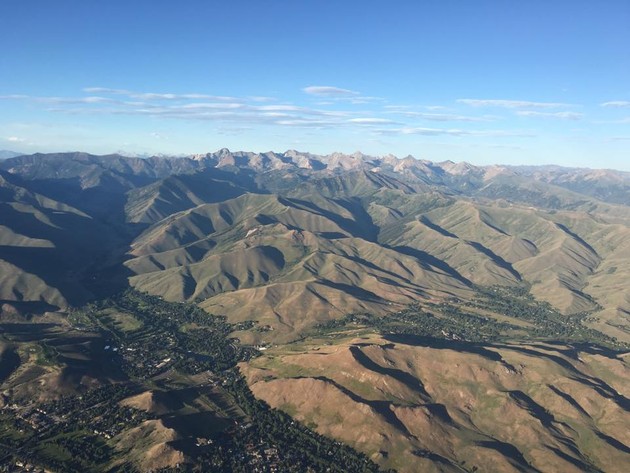 He adds:
Ketchum and Sun Valley seemed to weather the financial crisis just fine, and the folks that manage and plan the community should be applauded for avoiding quick-fix solutions to economic downturns. They've invested for the long-haul, sacrificed some quick pay-offs to preserve the scenic nature of the valley (which will yield a long-term payoff I think … ), and are turning the resort into a legitimate four-season destination (mountain biking will be as big as skiing someday soon). In this they are following the lead of other major resorts, such as British Columbia's Whistler.
Dare I say that it sounds like business is really … taking off?
If you've got an aerial snapshot to share, particularly one above CT, GA, IA, ME, MS, NM, ND, RI, VT, or WV, please send it along.