America by Air: Descending Into a Dust Storm
Editor's Note:
This article previously appeared in a different format as part of The Atlantic's Notes section, retired in 2021.
I just came off a two-week vacation that included six days at Burning Man—the art-infused, music-filled, drug-fueled festival held every year in the desolate Black Rock Desert of northern Nevada. (This satirical video of a guy coming back from BM has a lot of truth to it, and this tumblr of Burner mockery is also pretty brilliant.) The 30th Burn attracted more than 70,000 people to this pop-up, semi-circle city: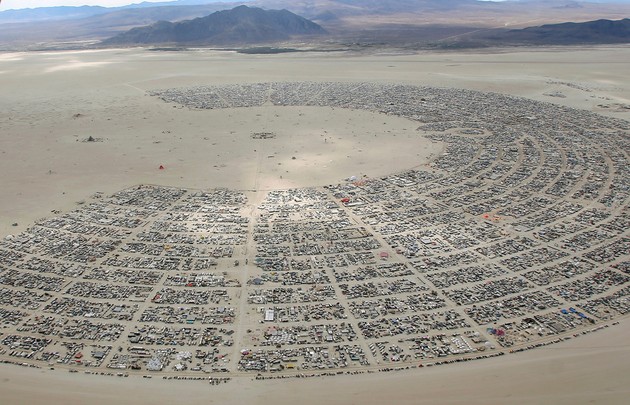 But I could barely see Black Rock City myself during the short flight from Reno due to one of the sudden dust storms that are all too frequent in that desert. (I might have missed the dusty deluge if I hadn't been delayed at the Reno airport for several hours because President Obama was in nearby Tahoe for an environmental summit and Air Force One was on the tarmac freezing flights … Thanks, Obama!) So instead of getting an aerial photo similar to the one above, all I got was this dust-shrouded scene: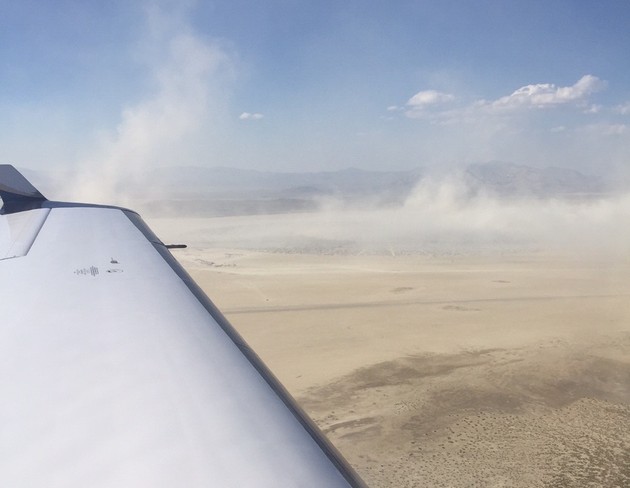 After landing in the dust storm, I struggled to keep up with my friend heading to our camp by bicycle with an 80-pound pack on my back and many beers in my belly (like I said, it was a long wait in Reno). Not being able to see 20 feet in front of me made for a surreal, somewhat perilous ride; my friend stopped so abruptly that I bumped right into him.
To get an ground-level idea of how opaque it gets out there, here's a photo taken on the last day by a friend I had just met—a talented young photographer and visual artist from Vancouver—thus bookending my trip in dust storms. You can't see the people behind us, but they're there: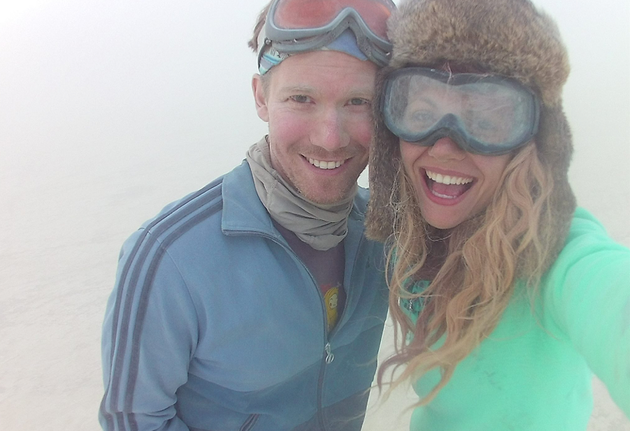 If you happened to capture any good photos of Black Rock City this year (I personally took a vacation from my iPhone and didn't bring my SLR due to dust danger), please send our way: hello@theatlantic.com.
Update from reader Doug McDougall, who sends a zoomed-out view of a dust storm descending over the playa in Black Rock Desert: