America by Air: Crater Lake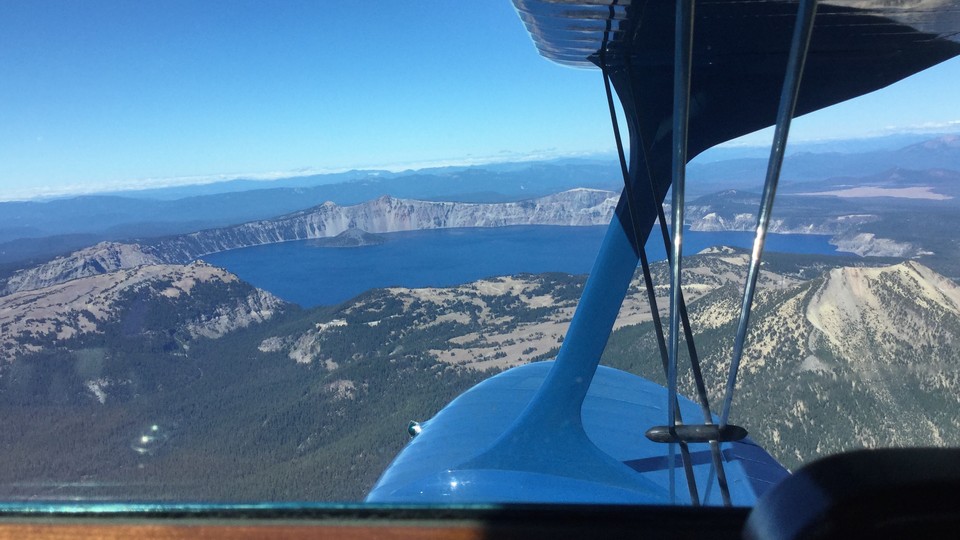 Editor's Note:
This article previously appeared in a different format as part of The Atlantic's Notes section, retired in 2021.
Here's another beauty from Jimmy Rollison, one of the top contributors to this series (with views over the Continental Divide, Monument Valley and Lake Powell, Dinosaur National Monument, and the rolling hills of northern California):
How to start a Monday: Southbound at 10,500' looking west, en route home from Hood River, Oregon, from a large antique airplane get-together once a year. As the song says: "Nothing but blue skies do I see."
The lake—the deepest one in the U.S.—formed around 7,700 years ago when Mt. Mazama collapsed after a massive volcanic eruption, one that was 42 times greater than Mount St. Helens in 1980. The resulting caldera is what you see above (and in this Orbital View). Rain and snowfall fills the caldera, and no rivers flow into or out of Crater Lake, so it takes about 250 years for the total amount of water to cycle out.
A 33-mile road, Rim Drive, wraps around the lake, and my first long bike ride happened to be around it, in the summer of 2010. The gorgeous locale and sunny weather of that day was only dampened by the timing of the ride—just a month after my brother got into a terrible bike accident in Portland that resulted in several broken teeth and nearly a broken neck. His bashed-up face loomed in my head as I raced down Rim Drive to catch up with the more experienced cyclists. Every tiny rock on the road felt like a speed bump, and my clenched hands were sorer than my legs by the end of the ride. But my brother is braver than I am; he was back to his long bike commutes in no time.
We're down to the final stretch of U.S. states in this series, so if you happen to have an aerial view above CT, GA, IA, ME, MS, NM, ND, RI, VT, or WV, please send it our way.