America by Air: Alongside a Rainstorm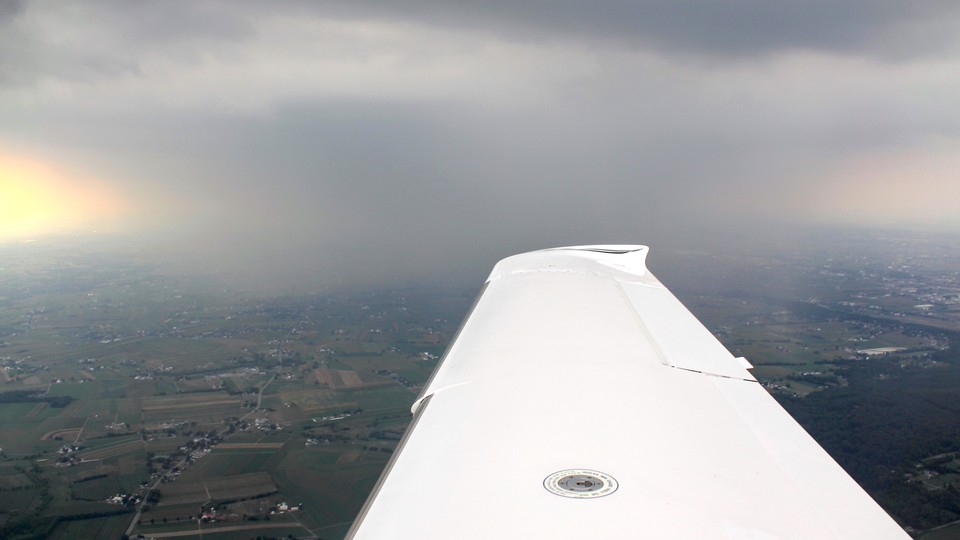 Editor's Note:
This article previously appeared in a different format as part of The Atlantic's Notes section, retired in 2021.
Genuine thunderstorms, of the type that form a long line when a cold front is moving across the country into warmer, wetter air, or that pop up as isolated cloudbursts on summer afternoons, are weather perils that even big, powerful airliners must avoid. When you're flying in thunderstormy conditions, you hear airline pilots asking controllers for re-routes around the storms. "New York Center, United 1234, we'll need to go 30 degrees left to avoid these buildups."
The updrafts and downdrafts of wind around a thunderstorm "cell" can be so powerful that small aircraft are supposed to fly at least 20 miles away from the storm's edge to avoid being tossed up and down. But "non-convective" rain showers, those not from thunderstorms, are more benign. On a trip this past Wednesday from Eastport, Maine, all the way back to the Washington area in a little Cirrus, my wife Deb and I flew in rain for most of the journey. But the rain was falling from a flattish, non-stormy cloud layer far above us, and it spattered on the wings and windshield as we flew in clear skies at 4,500 feet. (For the aviation crowd: this whole trip was VFR and free of turbulence and clouds at 6,500, then 4,500, then 3,500 feet, KEPM to KGAI, with a fuel stop at KPSF.)
And sometimes we passed localized rain showers, always keeping a respectful distance. Here is how the area just over the Lancaster airport, in the heart of the Amish country of Pennsylvania, looked at about 4 p.m. on Wednesday, from 10 miles to the east, outside the rain.  What looks like a cloud reaching all the way to the ground, off the plane's wingtip, would have seemed to people in Lancaster to be a drenching downpour. The gray you see reaching from cloud to ground is rain.
From the ground, it's hard to see or imagine weather other than what is affecting us at the moment. From a distance in the air you can see, godlike, the movement of different weather across the land.