'The Invading California / New York Horde'
Editor's Note:
This article previously appeared in a different format as part of The Atlantic's Notes section, retired in 2021.
Another native of the Albina area, Chris, adds a strong personal perspective to our ongoing discussion:
Thanks for your balanced post on gentrification. I was born and raised in the Irvington neighborhood [one of seven in the Albina area]. Both my parents grew up in North Portland and graduated from Jefferson High School, a traditionally African American high school. My first Portland public school experience was Boise Eliot.

I had no idea that Portland was such a white city until much much later in my life.  I grew up surrounded by African Americans, and things seemed to be generally cool between most white and black people on a day-to-day basis. I did witness African American friends getting targeted by police for things that I could get away with, so I don't want to paint a pure rosy picture, but in some respects it feels more divisive now than ever, despite seeing less racist stuff than was in Portland during the '80s skinhead movement. [Here's a deadly episode of that period covered by The Portland Mercury, and we'll follow up on skinheads in a future note.]

Vanessa Renwick and Sean Tejaratchi

I understand the frustration of having trouble living in the neighborhood you grew up in. I am faced with that struggle every day, and being white makes it no less challenging to write that ever-increasing rent check. I appreciate your article focusing on the money issue, because I feel that while Portland still has some race issues on the fringes of society, the biggest future problems for us Portland natives comes from the invading California / New York horde, and that boils down to money and class. They want a ticket for the Portland amusement ride, but the people who made Portland weird, cool, and fun have been leaving because of money.

It has not been doom and gloom for every African American family. An African American women on the block that my Grandma and Grandpa lived on for 50+ years bought four different "crack houses" on that block during the '80s/'90s, and I am sure that her and her kids will be well off for it. She was not rich by any means, but she worked hard, saved money, and invested her resources in property near her.  

I get the frustration of seeing friends and family not being able to afford to stay in the neighborhood as a renter; I get that 100 percent. But this doesn't reflect the reality that lots of African American families have been able to get obscene prices for homes in disrepair and needing all kinds of work. The money generated from home sales has likely supported a lot of African American grandma and grandpas who were relying on their home as a major part of their retirement, and getting $200-400k for a beat-up two-bedroom bungalow is pretty sweet.

Artwork and photo by Vanessa Renwick: "Always bugs me when a neighborhood gets gentrified and suddenly all the 'historic' district signs go up. This house was a crack house in the early 90's. It was built in 1908 by the Millers, who were Volga Germans. This house sits on land in the Portland metro area, which rests on traditional village sites of the Multnomah, Kathlamet, Clackamas, Chinook, Tualatin Kalapuya, Molalla and many other tribes and bands. All of this land was under the ocean 50-70 million years ago."

There are lots of ways to splice and dice the gentrification issue, so I appreciate you highlighting the resources issues and not make the story solely all about race, which it certainly is not. And since you mentioned the Trader Joe's controversy, that deal was ridiculous to oppose. That specific area of Portland is lacking a grocery store. The Safeway is not too far away on MLK and Ainsworth, but a Trader Joe's would have been a great addition to that area. They offer good food options at decent prices, and there would have been African Americans hired. A few groups have seemed to capitalize on the gentrification anger and pushed their own agenda—anti development in general—so we are stuck with a large blank field on a major arterial road for years.
Here's an overview of that large blank field, on the corner of Alberta and MLK: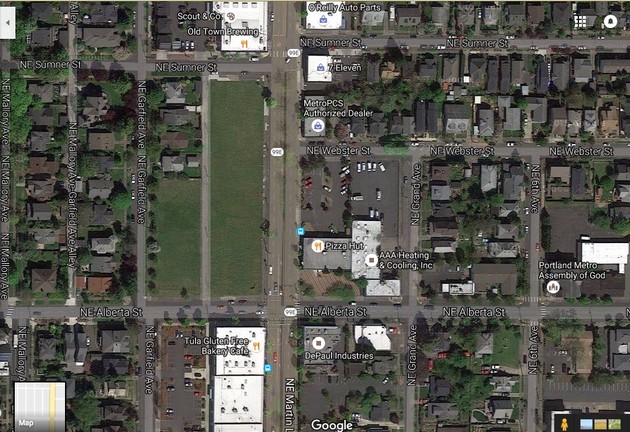 My colleague Rosa has much more on that Trader Joe's controversy.
***
I just got an email from Owen Pickford, executive director of The Urbanist, who adds some conflicting nuance to the studies I cited showing that gentrification often improves the welfare of long-time residents and makes them more likely to stay. Here's Owen with the helpful pushback:
I've been following the discussions on gentrification over at The Urbanist for awhile. I think the best study on this ["Gentrification and Residential Mobility in Philadelphia," PDF here] wasn't mentioned in your summary. This paper did find a small increase in mobility of lower income residents in gentrifying neighborhoods. Additionally, the benefits of gentrification that were found in other studies don't appear to be spread evenly.

Gentrification can increase demographic sorting. Gentrification is obviously about a lot more than just income, but I focused on the economic findings in a longer piece here. Also, in case you missed it, Kristen Jeffers at The Black Urbanist recently touched on gentrification with reference to a lot of great links.
Here's the abstract from that Philadelphia study:
We find significant heterogeneity in the effects of gentrification across neighborhoods and subpopulations [in Philly from 2002 to 2014]. Residents in gentrifying neighborhoods have slightly higher mobility rates than those in nongentrifying neighborhoods, but they do not have a higher risk of moving to a lower-income neighborhood. Moreover, gentrification is associated with some positive changes in residents' financial health as measured by individuals' credit scores. However, when more vulnerable residents (low-score, longer-term residents, or residents without mortgages) move from gentrifying neighborhoods, they are more likely to move to lower-income neighborhoods and neighborhoods with lower values on quality- of-life indicators. The results reveal the nuances of mobility in gentrifying neighborhoods and demonstrate how the positive and negative consequences of gentrification are unevenly distributed.
***
Lastly, I just came across the wonderfully named odoka.org, or the Oregon Department of Kick Ass, that houses the work of Portland artist Vanessa Renwick, who created the two signs seen above. She also put together a video installation called "The House of Sound," about a local record store of the same name that went out of business years ago. Here's part of the installation, which shows all kinds of scenes from the area of Portland we've been most talking about so far:
Portrait #3: House of Sound from Vanessa Renwick on Vimeo.
The synopsis of the installation:
In the 1950s, Williams Avenue had the most significant concentration of blacks living in Portland. In the late '50s, pushing an 'urban renewal' policy and exercising the power of eminent domain, the Portland City Council condemned almost the entire neighborhood to replace it with the Memorial Coliseum, Rose Quarter and Emmanuel Hospital. With film and an edited 5-hour radio show dedicated to the memory of the House of Sound record store, this installation is a eulogy for the former community center and for all the places up and down the street that used to fill those empty lots, now unrecognizable as mixed-use, high-rise hyper-urban development.

A cozy living room features couches and a turntable where visitors are welcome to make themselves at home among the vinyl collections of the previous century. Beyond, votive candles surround the iconic storefront sign, 'House of Sound' in distinctive lettering and decorated with musical notes, while at the back of the room a screen portrays black and white images of the desolated neighborhood after the December 31, 2008 demolition of the building that housed the record store and cultural heart of Portland's historic black neighborhood.
Another reader also touches upon a lost part of Portland's music scene:
Your coverage of this issue has been fantastic and I hope my story for Flux Magazine about Albina's once thriving jazz district [and his short documentary seen below, produced by Christina Belasco] can be added to the conversation. My name is Reuben Unrau and I am a journalist based in Chicago. I grew up in Portland and have long been interested in the issue of gentrification in my city. During my senior year at the University of Oregon, I collaborated with a photographer and videographer to tell the story of the rise and fall of Albina's bustling jazz scene during the 1950s and '60s. Here is an excerpt from my article:

North Williams Avenue was the hub of all the late-night action in Portland—the epicenter of an integrated, around-the-clock spectacle of swing dancers, be-boppers, and street hustlers. The musicians of the 1950s and '60s who came to play there affectionately called it "The Stem." Clubs like Fraternal Hall, Jackie's, McLendon's Rhythm Room, and Paul's Paradise lined the avenue and attracted such talent as John Coltrane, Thelonious Monk, and Louis Armstrong. "It was happening," says drummer Ron Steen, who launched his music career at the tail end of Albina's jazz heyday during the 1960s. "People from out of town would come up and couldn't believe the energy. They said they'd never seen anything like this in other cities.

But a series of urban renewal projects, namely the construction of Interstate 5 and the Memorial Coliseum, destroyed many of the black businesses and music venues in the area. For my article I talked to musicians and club owners who grew up in the area. They reflect on their time in Albina and talk about the changes they have experienced in their neighborhood. "It was devastating," Steen says of Albina's changing landscape. "To me, that was like a death in the family."

This story brings to light the intersection of gentrification/urban development and music. Jazz was not only the language of the black residents of Albina, it also promoted integration in an otherwise highly segregated city. White residents from other neighborhoods would come to Albina on the weekends to check out the music.

"The people who went there went there for the music, and that was the common denominator," says Robert Dietsche, a jazz historian and author of Jumptown: The Golden Age of Portland Jazz, 1942-1957. "They didn't realize what they were doing, but they were on the cutting edge of integration."
Losing Albina from SOJC on Vimeo.