The Explosive Growth of the Blue Cut Fire
The wildfire has charred more than 25,000 acres and 80,000 people have been told to evacuate their homes.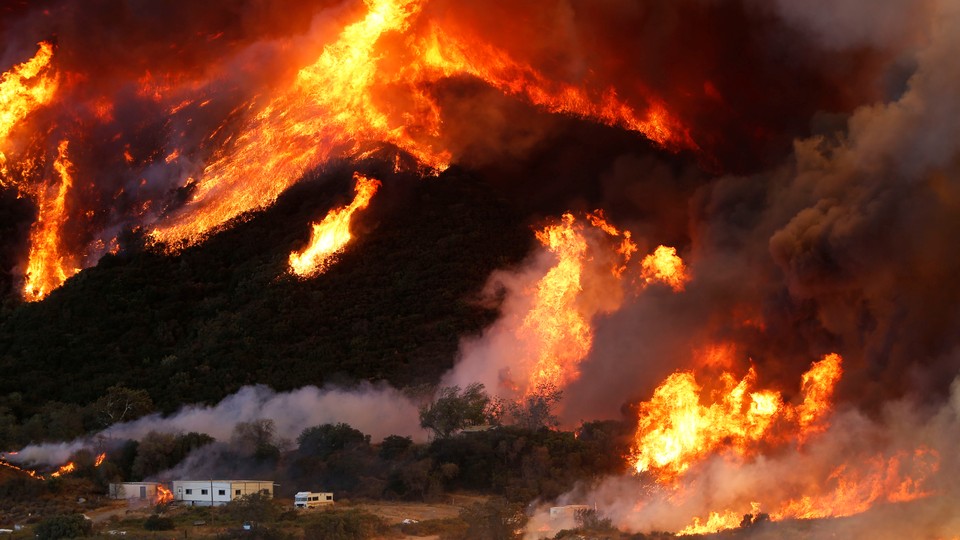 NEWS BRIEF The Blue Cut fire, which began Monday as a small brush fire, then two hours later had grown to a couple thousand acres, has now spread to 25,000 acres. By Wednesday night, helicopters flew in the dark, dumping water on a ridge line trying to stall its growth, as firefighters cut lines around communities hoping to protect homes in the fire's path.
More than 80,000 people have been told to evacuate, as the fire has spread with explosive growth in all directions in the hills of San Bernardino, California, about 60 miles from Los Angeles. It has spread so quickly that Governor Jerry Brown declared a state of emergency in San Bernardino County.
The fire raged so intensely that it sprouted fire tornadoes. By Wednesday, firefighters found a bit more success battling the flames, though it still was just 4 percent contained by the end of the night. Although everyone in the surrounding area has been asked to leave their homes, due the unpredictability of the fire, many have stayed, as this family, interviewed by the Los Angeles Times, chose to do:
On Tuesday, Diane, 65, was babysitting her granddaughter when she happened to walk outside and saw a plume of smoke.

"By the time I came in and told [John] and we both came outside again, it was just massive," she said of the fire. "That's how fast it grew."

Diane soon got a call ordering mandatory evacuations in the area, which she said seemed premature.

Still, the couple laid out hoses and shovels to prepare. And if things get hairy in the coming hours and days, John said his family has three vehicles they can use to get themselves, their two dogs and two cats out
This area was last hit by a fire 13 years ago, so the chaparral has a mix of new and old dead growth, which has made for fast-burning fuel. The recent high temperatures and steady winds in the area also helped it spread. The Blue Cut fire, however, is just one of six major wildfires burning in California, according to the National Interagency Fire Center. So far this year, fires have burned hundreds of homes, and killed eight people, and it's not even peak fire season in California. Typically, that begins in the fall, when the Santa Anna winds blow dry and hot inland air down the hillsides.
The five-year drought has taken much of the blame for the state's recent fires. But fires are burning more acreage everywhere. As The New York Times pointed out, the average size of wildfire in the U.S. has increased in the past 30 years, from less than 25 acres, to 100 acres. Part of the blame is because people put out the smaller fires so quickly, which if left to burn would clear out some of the old and dead fuels that make for such explosive growth.