America by Air: Reef Relief in Hawaii
Editor's Note:
This article previously appeared in a different format as part of The Atlantic's Notes section, retired in 2021.
From a newcomer to the series, Anne Woods:
I love America by Air! Here's a submission above Puako Reef, on the Big Island of Hawaii, taken from a Piper PA-18 Super Cub.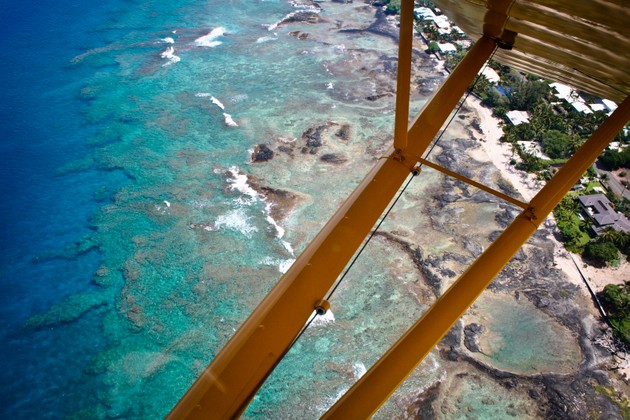 The healthy and beauty of the reef is precarious right now. From the North Hawaii News early this year:
The Puako coral reef has provided food, recreation and beauty for many generations. So when residents began to see the coral degrade — a loss of 50 percent between 1970 and 2010 and several studies showed dangerously high bacteria count — they decided it was time to care for the reef. The community came together and launched the Clean Water for Reefs project in Puako in Sept. 2014. It soon became apparent that the major culprit was outdated waste water treatment such as cesspools, and that upgrading to a septic tank, given the porous volcanic rock and high ground water, was not a viable option.  …

[T]he final recommendation was for an on-site waste water treatment plant. A big advantage to the on-site waste water treatment plant is that the water coming out of it would be safe to use for irrigation, making a "community orchard" a real possibility.
For an underwater tour of Puako, check out this vivid video: