America by Air: 'Pure Heaven, Accessible Only by Air'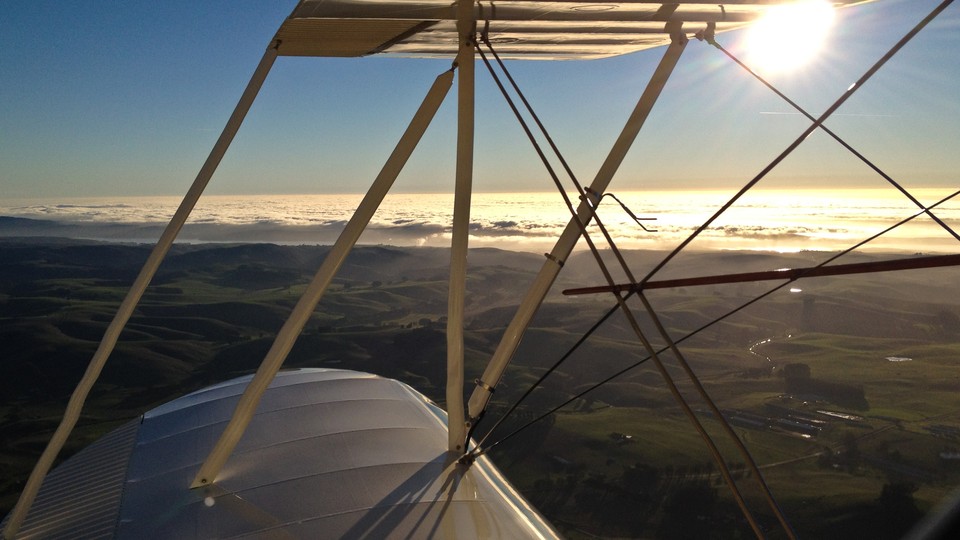 Editor's Note:
This article previously appeared in a different format as part of The Atlantic's Notes section, retired in 2021.
Anne Woods, the reader who sent the crisp, cerulean view of Puako Reef, sends a second photo from the air, this time above Northern California's Sonoma County on an afternoon in late November:
It was taken while bundled up in an open-cockpit 1932 Waco UBF-2. Off the wingtip is Tomales Bay, under which runs the San Andreas Fault. Point Reyes National Seashore is just on its other side, under the fog. When the sun swings south in the fall, it bathes the earth and the Waco's wings in a soft, glowing light. The sky flushes orange, the summer-brown grass greens, the air stills, and on this day, I could smell the gap between the temperature and dew point closing. Pure heaven, accessible only by air.
Here's a heavenly view of Point Reyes under the fog: