America by Air: A Busy Harbor in the Rust Belt
Editor's Note:
This article previously appeared in a different format as part of The Atlantic's Notes section, retired in 2021.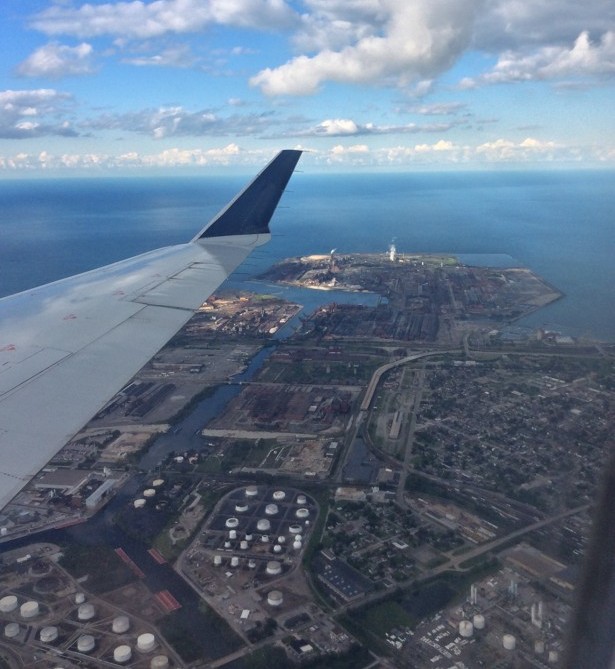 Reader Jim Ciszewski answers our call for photos from Indiana:
Taken on a recent trip from GSO to MDW [Greensboro, North Carolina, to Chicago, Illinois], this photo shows the Indiana Harbor and Ship Canal in northwest Indiana, including ArcelorMittal (originally Inland Steel), the Whiting BP (originally Amoco) refinery, etc. I grew up on the far South Side of Chicago, not far from here, in the '70s and early '80s, when the "rust belt" was beginning.
Lots of rust color—and conveyor belts in action—to be seen via satellite here, where the canal empties into Lake Michigan near the plume of steam in the background of Jim's photo:
What's going on down there? The U.S. Army Corps of Engineers has these statistics about what passes through the Indiana Harbor :
Commodities are iron ore, limestone, coke, gypsum, steel, cement and concrete, petroleum products, and miscellaneous bulk products. ...

Bulk commodities that pass through the harbor ... generate $332.M annually in direct revenue while supporting 1,495 direct, indirect, and induced jobs that produce $263.M per year in direct income.
Pretty impressive, Indiana. If you've got a photo to share—particularly one from CT, GA, ID, IA, ME, MS, NM, ND, RI, VT, or WV—let us know.