America by Air: Hills Over Duncan Mills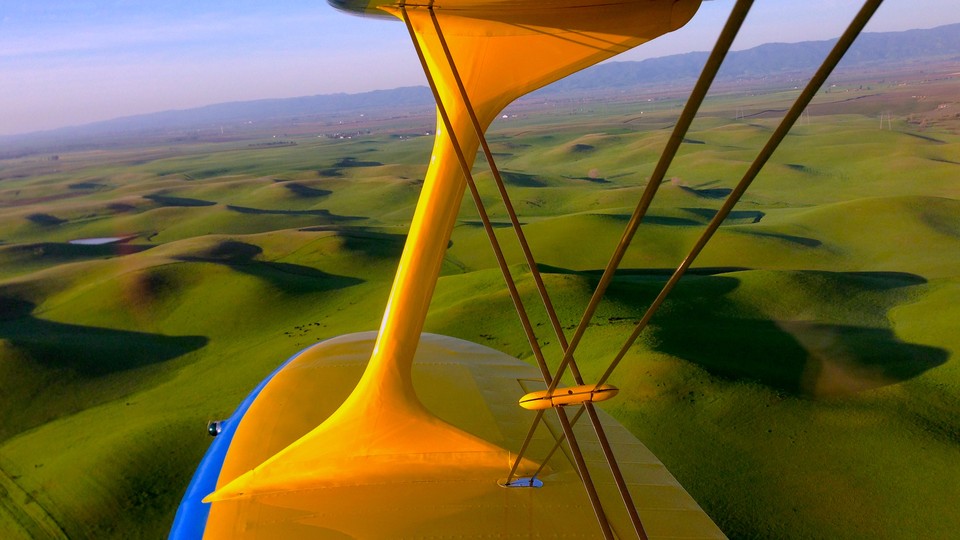 Editor's Note:
This article previously appeared in a different format as part of The Atlantic's Notes section, retired in 2021.
Here's the latest from Jimmy Rollison, one of our ace photographers for the series, who's provided stunning views over Monument Valley, Dinosaur National Monument, and the Continental Divide. This colorful one was captured over Duncan Mills, California. "It's west of Sacramento," he writes, "looking at the coastal range that separates the Sacramento Valley from the Napa Valley in a 1939 airplane." Update from another reader, Frank:
That "1939 airplane" is a Beech Model 17 "Staggerwing" biplane, and I think it is the most beautiful single-engined propeller driven aircraft ever produced (although the Supermarine Spitfire is very closely competitive). The Staggerwing is, truly, Walter Beech's masterpiece. Notice how the upper biplane wing is mounted aft of the lower, a rare feature called "negative wing stagger" that gives the airplane its unique appearance and grace.

Next time you are in DC, wander by the National Air and Space Museum on the Mall and make your way to the Golden Age of Flight gallery. Therein, a yellow Model 17 is suspended for your examination and admiration.

Thanks for the series; the photos are great.
So are the emails! Here's the beauty that Frank mentions: