America by Air: Fork in the River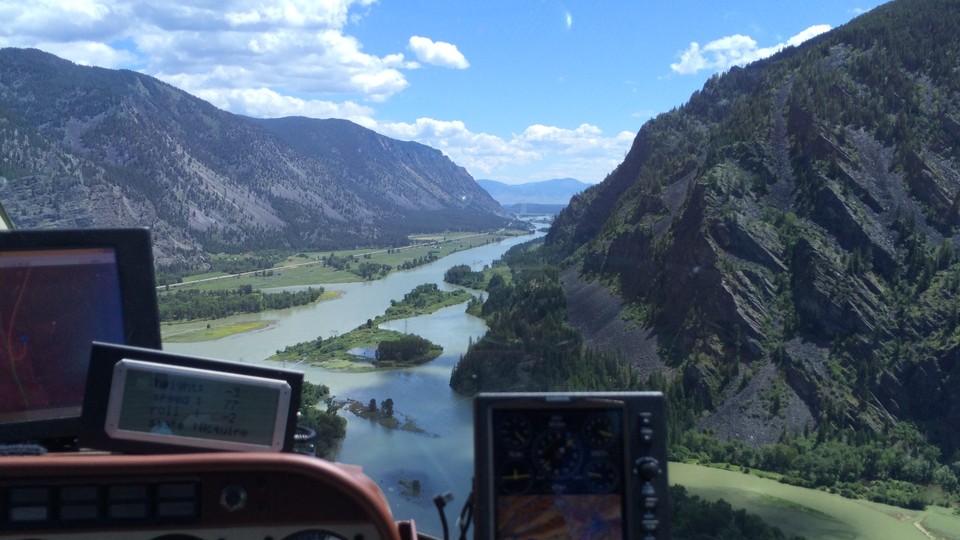 Editor's Note:
This article previously appeared in a different format as part of The Atlantic's Notes section, retired in 2021.
A reader and pilot, JP, sends a scenic view "from the cockpit of a Bell 206 Jetranger Helicopter, flying southeast bound along Clark Fork River heading back to Missoula, MT." Here's a little about the waterway:
The largest river by volume in Montana, the Clark Fork drains an extensive region of the Rocky Mountains in western Montana and northern Idaho in the watershed of the Columbia River. The river flows northwest through a long valley at the base of the Cabinet Mountains and empties into Lake Pend Oreille in the Idaho Panhandle. The Clark Fork is a Class I river for recreational purposes in Montana from Warm Springs Creek to the Idaho border.  The Clark Fork should not be confused with the Clarks Fork of the Yellowstone River, which is located in Montana and Wyoming.
That striking photo from JP checks another state, Montana, off our list of 50. We still need aerial views from CT, GA, ID, IN, IA, ME, MS, NV, NM, ND, RI, TN, VT, and WV if you can help: hello@theatlantic.com.