America by Air: Burning Man Below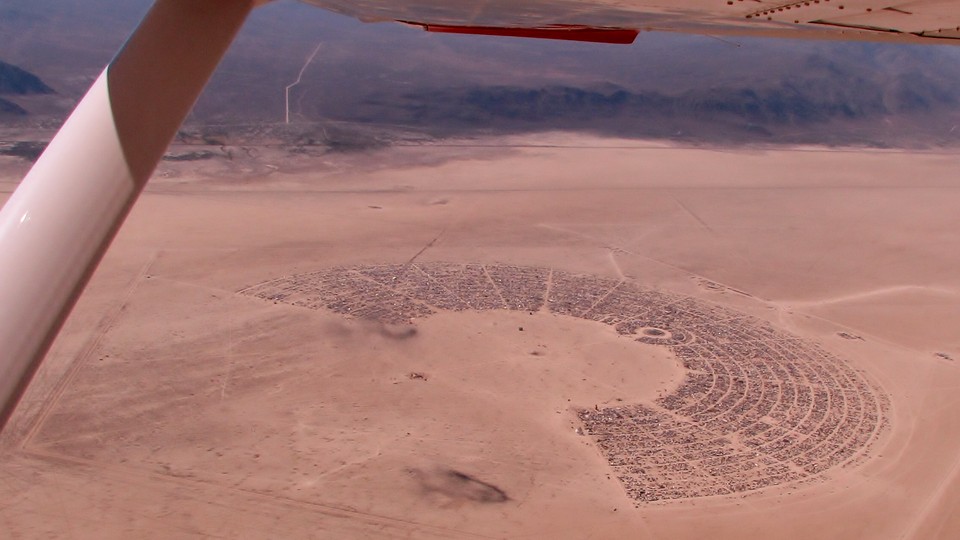 Editor's Note:
This article previously appeared in a different format as part of The Atlantic's Notes section, retired in 2021.
Jimmy Hamilton, the Reno-based reader who sent the AbA photo over Pyramid Lake in northern Nevada, responds to me mentioning that I'm headed to nearby Black Rock Desert to camp out for a week soon:
Hello again, Chris. I just happen to have an aerial photo of Burning Man, taken in the C180 from about a mile away looking down (from about 5500 AGL / 10,000 MSL) on the half circle that is Black Rock City. The scale of it is hard to imagine, but the diameter of the half circle is well over a mile.

I hope you have a great time at Burning Man this year, but be prepared for everything—heat, cold, dust storms, rain and mud—all in the same week. Then again, on some occasions it can be clear and mild!
If you've been out to Black Rock City and have any good advice for a first-timer, or just a good story to share, please drop me an email.
As I was reading up on Black Rock Desert just now, I came upon this eerie and captivating sight:
That vision of a mushroom trip is called Fly Geyser, and it was created by accident more than 50 years ago. From the Atlas Obscura entry on the natural-ish wonder:
In 1964 a geothermic energy company drilled a test well at the same site [of a nearby geyser]. The water they struck was that same 200 degrees. Hot, but not hot enough for their purposes. The well was supposedly re-sealed, but apparently it did not hold. The new geyser, a few hundred feet north of the original, robbed the first of its water pressure and the cone now lays dry.

This second geyser, known as Fly Geyser, has grown substantially in the last 40 years as minerals from the geothermal water pocket deposit on the desert surface. Because there are multiple geyser spouts, this geyser has not created a cone as large as the first, but an ever growing alien looking mound. The geyser is covered with thermophilic algae, which flourishes in moist, hot environments, resulting in the multiple hues of green and red that add to its out-of-this-world appearance.
Here's a video of the geyser in action:
The 3,800-acre Fly Ranch upon which the geyser sits was actually just bought by the Burning Man Project in June. From the group's news release:
Here's the gist of it: Those who have been deeply affected by a Burning Man event or experience have often asked, "How can we bring this beyond the event?" "How can we make this really matter?" [...] As a year-round site, Fly Ranch has the potential to expand Burning Man Project's activities and existing programs, as well as amplify Burning Man's cultural impact into the wider world beyond Black Rock City.
Not if Cthulhu gets to them first: