Gentrification in Portland: Residents and Readers Debate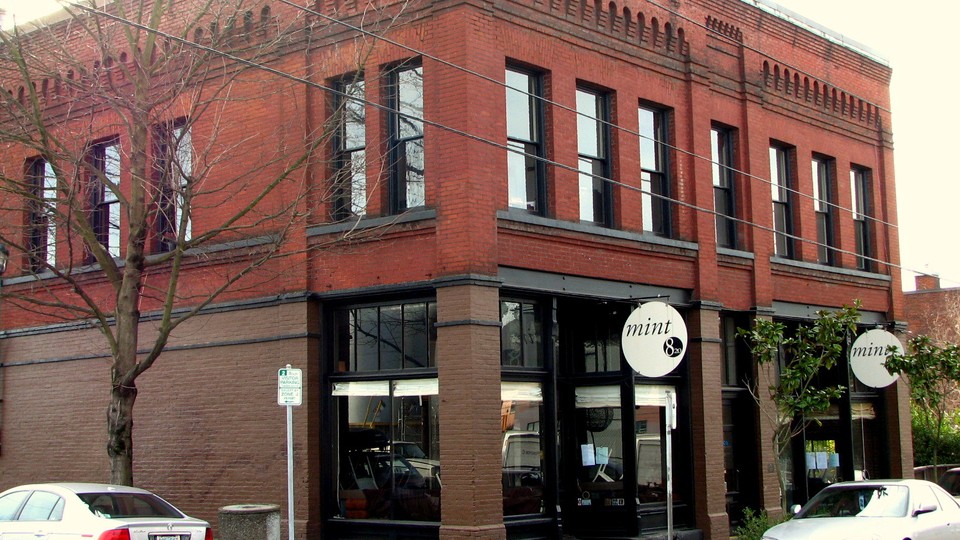 Editor's Note:
This article previously appeared in a different format as part of The Atlantic's Notes section, retired in 2021.
Alana Semuels wrote a popular piece last month called "The Racist History of Portland, the Whitest City in America." Towards the end of it, she writes:
Yet as the city became more progressive and "weird," full of artists and techies and bikers, it did not have a conversation about its racist past. It still tends not to, even as gentrification and displacement continue in Albina and other neighborhoods. "If you were living here and you decided you wanted to have a conversation about race, you'd get the shock of your life," Ed Washington, the longtime Portland resident, told me. "Because people in Oregon just don't like to talk about it."
Scores of Atlantic readers in Portland have been talking about Alana's piece and emailing their views, so we've decided to convene a conversation about race in the city (via hello@theatlantic.com). To start things off, we're focusing on Albina, the northeast area of Portland that historically housed the vast majority of the city's African American residents. Albina now comprises the neighborhoods of Eliot, Boise, Humboldt, Irvington, King, Overlook, and Piedmont, plotted on this map: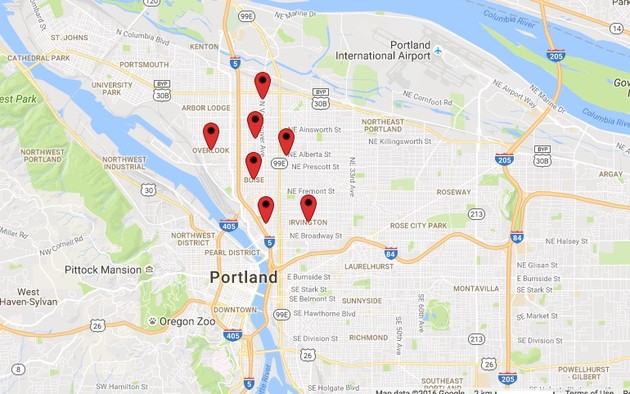 Here's how Alana introduces Albina in her piece:
As the city becomes more popular and real-estate prices rise, it is Portland's tiny African American population [6.3 percent] that is being displaced to the far-off fringes of the city, leading to even less diversity in the city's center. There are around 38,000 African Americans in the city in Portland, according to Lisa K. Bates of Portland State University; in recent years, 10,000 of those 38,000 have had to move from the center city to its fringes because of rising prices. The gentrification of the historically black neighborhood in central Portland, Albina, has led to conflicts between white Portlanders and long-time black residents over things like widening bicycle lanes and the construction of a new Trader Joe's.
Rosa Inocencio Smith, our new assistant editor for Notes (and writer of our Daily newsletter) will be posting a note soon about that Trader Joe's controversy. Her hometown is Portland, so she will have a lot of great insight to share during our ongoing reader discussion. For my part, Portland has become an adopted hometown since my family moved there more than a decade ago, next to Albina, so I'm especially interested in this topic as well.
But for a much closer firsthand perspective, here's one of many readers who grew up in Albina:
I lived in this neighborhood in the late '80s. I still do. The first thing this article (and Kamau Bell's CNN show [United Shades of America—relevant clip here]) gets wrong is that this was a "black" neighborhood. Even when it was the center of black culture in Portland, it was still 40 percent white.
Here's a breakdown of that demographic over the decades: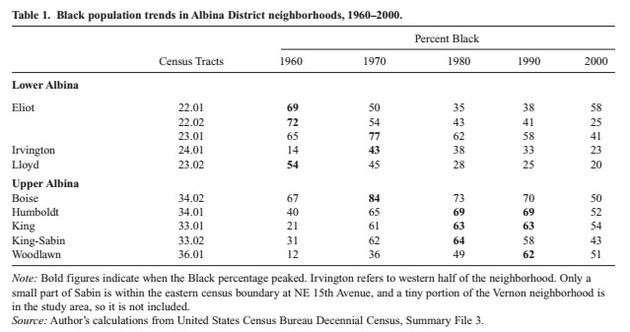 Back to our reader:
The second thing is that blacks some how have a "historical claim" to Albina because they as a majority occupied it from roughly 1947-1990. Hell, you could make the claim that neighboring Overlook is a "Polish" neighborhood if you want to go back far enough, and that the city should implement policies to promote Polish ownership, but nobody ever does.

The third thing is over just how much safer (though in some respects less fun) this neighborhood is now. I too have had suspects pursued through my backyard, blocks cordoned off, gun fights in front of the house, I had to dive behind a car because of a drive-by [reported examples here and here], been witness to and a victim of arson, and I can attest to this sad fact: More white people = less crime of all varieties, from littering to murder. As a homeowner here, amen to that.
That "sad fact" seems dubious. Gun crimes, for one, are dispersed throughout Portland, not just the Albina area, where most of the black population is concentrated:
Residential burglary is similarly dispersed, while street robbery and non-domestic assaults are mostly concentrated downtown, across the river from Albina. (Update: Here's a fuller picture of crime trends in Portland among difference racial groups.)
Overall, according to an April 2015 news report that featured the crime statistics cited above, crime in Portland has "plummeted since the 1990s," much like the rest of the country:
Portland State Professor Kris Henning said many residents don't realize that crime has declined considerably over the past 20 years. Henning said they devour so much crime news they think the city is more dangerous than it is. "Of the 13 crimes we looked at, the only one that increased significantly was bike theft," [PSU student Kelsey] Baleilevuka said.

Overall, gun-related crimes in Portland have dropped 84%. Residential burglaries are down 61%, motor vehicle thefts dropped 70%, home robberies are down 76% and street robberies are down 70%. … Excluding homicides, crimes involving guns have moved from inner Northeast Portland toward Gresham.
Another reader who lived in Albina makes a distinction between renters and homeowners in the neighborhood:
Per the claim that 10,000 African Americans were "forced out" of inner N/NE, I lived in the neighborhood starting in the late '80s. Yes, it was crime-ridden, dangerous, and full of abandoned houses. Yes, I witnessed quite a few drive-bys. But many of my neighbors who were black and owned their homes were ready and willing, as prices increased throughout the '90s, to sell out and move without being forced out.

If you are a renter who can't afford the rising rents, then you are forced to move. And this has happened to quite a few of my renting friends who have lived in the neighborhood for over 20 years, and yes, they are white.
This next reader also attests to the crime in Albina in the '80s, and the exodus of both black and white neighbors as development and higher prices arrived:
It's weird to read an Atlantic article about something I personally experienced. It's a bit of a trip down memory lane. I'm white, and my parents moved to the Albina area in the late '80s. They purchased and refurbished a 1920s bungalow as part of an urban renewal program. This made them the tip of the spear for gentrification, and the breakup of a historically black neighborhood.

Like all people who kick off gentrification, they soon complained bitterly about the later newcomers who shoved property prices into the stratosphere.
We moved from the area before I hit middle school, but I can confirm many of the points in the article. Rentals proliferated through the neighborhood. The area was still rough when we lived there. Police presence was constant, and it wasn't until we moved that I realized constant police presence isn't a thing in all neighborhoods. Once in a blue moon there were gunshots at night. My parents gave me lectures about not picking up trash and avoiding the used needles that littered public spaces. I vividly remember an incident when the police sealed off our entire block and ended up pursuing a fleeing man directly through our backyard.

But there was definitely a community there. It was a mix of black and working-class white people who seemed to get along in a day-to-day sense.

I often wonder what became of our old neighbors. Several adjacent properties were owned by black people who seemed to be just holding steady. With property prices in that area increasing about 10x since then, I wonder if they could even afford the taxes for their places if they stayed.

Honestly, though, I don't know if the breakup of the Albina black enclaves in Portland could have been prevented in any way. Portland in general is increasingly hostile to native populations from a financial standpoint. It's overrun with wealthy tech money that dwarfs what used to be there. I recently visited part of my old neighborhood, and it's a romping ground for Audis, Teslas, and people who buy $200 bottles of wine for dinner.

Myself and my extended family were long ago shoved out into the suburbs. Race aside, nobody with a "normal" job can afford to buy property in many locations mentioned in the article. I don't know exactly what people think could have been done to "preserve" the neighborhood, other than making some sort of bizarre reverse-racism law that only allowed people of a certain race to live there.

The real problem in Portland for working-class people of all colors is a lack of affordable housing. And the city's response to that has been typically bureaucratic and inept.
Here's one more reader emphasizing class:
I lived in Portland in the 1970s and have a child who lives there now. Urban renewal was not motivated by race; it was motivated by money. If you lived in a cute or interesting neighborhood and someone with more money came along and wanted to live there too, they got to stay and you had to go.

I had to leave Portland because I did not have the money or the job to stay. I had lived there for four years. The first year I lived within six blocks of the medical school, but by my last year of living in "Portland," I lived in Tigard. I could have either lived in Tigard or I could have lived in Gresham. I was not pushed out of the downtown area because of my race; I was pushed out because of money.
If you have also lived in Albina and want to provide any contrasting views and experiences, please drop us a note. Update from a reader, Rob:
On the topic of gun crime, I can attest to a high level of shootings in NE Portland. I lived at the corner of Albina and Killingsworth for two years and there witnessed three shootings—two on the corner and one at the school, Jefferson, across the street. Right after my wife and I moved, there was another shooting at the school's after-school center, bringing the total to four. Just googled it and looks like there was another one in February this year. And one last year.

Gang violence is something no one in Portland talks about. Outside of having a gang-related task-force team with the police, you would never know.
***
One question that arises from Alana's article: Does gentrification ever increase opportunity for poor residents? Definitely, according to Lance Freeman, the director of the Urban Planning program at Columbia. In an email he sent me last summer for a piece on gentrification, Freeman described some of the upsides:
Gentrification brings new amenities and services that benefit not only the newcomers but long term residents too. Full-service supermarkets that carry fresh produce, restaurants where residents could dine in, and well-maintained parks are often lacking in poor neighborhoods prior to gentrification. For long-term residents who are able to stay, either due to housing subsidies, owning their home, or their own earning capacity improving, these changes are often appreciated.
And most residents are able to stay, at least according to a 2004 study that Freeman conducted with economist Frank Braconi; they found that low-income African Americans in New York City were more likely to remain in gentrifying neighborhoods than stagnant ones. They noted similar findings in Boston. And here's how my colleague Yoni Appelbaum, in a post by Ta-Nehisi Coates, summarized another study, from the University of Colorado-Boulder: "In plain English, they're arguing that gentrification isn't forcing people out; it's bringing in yuppies and hipsters, and hanging on to upwardly-mobile minority households that would otherwise have decamped for the suburbs."
In the case of Portland, whose black residents were historically confined to one area, wouldn't the displacement of many Albina renters out to "The Numbers"—the city's low-income outer neighborhoods, which are historically white—have, at minimum, a silver lining of more racial integration? And middle-class African Americans who own their homes in Albina are likely to remain, thus blending with the middle-class newcomers of all backgrounds. (More than 26 percent of Portland residents are not classified "white" or "black.") That sort of gentrification—black neighborhoods becoming more white and white neighborhoods becoming more black, with at least more investment in Albina, if not The Numbers—seems like the least bad outcome.
The risk, in my mind, is if the movement of people and money occurs too quickly, without reasonable measures in place to mitigate mass displacement (e.g. rent control, government-subsidized housing, Section 8 vouchers). A 2015 report by Governing magazine determined that Portland is, in fact, the fastest-gentrifying city in the U.S.—something that should give everyone pause.
Do you have any strong views about gentrification, especially as it relates to Portland? Let us know. Update from a reader:
I've lived in the Portland area for 36 years, except for a short stint in the Midwest. I grew up in a multi-racial family, and my wife is African American. Alana Semuels's portrayal of Portland is overly simplified. The gentrification she describes was not targeted at black people specifically; it targeted blighted areas, which were poor and largely black.

It was also happenstance the areas which received urban renewal initiatives were those closest to the downtown core. Part of the reason those areas got attention first was because of the crack epidemic of the late '80s; inner northeast Portland was a shooting gallery. If Lents (SE PDX) had gang violence, maybe it would have gotten gentrified and valuable. But it didn't, so it remains white, poor, and ignored—as does a lot of the area near 60th and Killingsworth.

Urban renewal first happened in Northwest Portland, which is now a stomping ground for trustafarians from out of state. Nobody calls that gentrification though, because that area was mostly industrial and white before urban renewal. Nobody forced anyone to move from these areas, black or white. The real estate became valuable though, excessively so. Part of the reason is because of the restrictive land-use laws in this state. [This article from a progressive local paper and this opinion piece from The Oregonian blame Portland's housing crisis on its urban growth boundary, which Rosa has noted in passing before.]

What Semuels's article doesn't capture is the fact there is virtually no black middle class in Portland or in Oregon generally. There is an upper class, then very poor. The reason many of the very poor got pushed out "to the numbers" is because they don't own their homes, or they sold them. They got pushed to an area in unincorporated Multnomah County, which already had other poor people and has been ignored by Portland City Hall for decades. The only development in that area in 30 years has been the MAX line and subsidized housing. Housing in inner NE PDX became too valuable, so anyone on Section 8 got pushed out east.
One more reader:
Your reader said: "With property prices in that area increasing about 10x since then, I wonder if [black homeowners in Albina] could even afford the taxes for their places if they stayed." I have paid Portland property taxes and know that greatly increasing values do not lead to greatly increasing taxes. That is generally not a way for a property owned to be forced out. Here's some information:

Our Goofy Property Tax System

. . . The answer lies in Measure 47, passed in 1996 (and slightly modified by Measure 50, a legislative referral passed by voters in 1997). Measure 47/50 said that the assessed value, for tax purposes, of a given piece of property cannot increase by more than 3% a year from its 1995 assessment, no matter how much the actual value of the property is going up. In Portland, property values in some recently gentrified areas, especially in North and Northeast Portland, have skyrocketed, far more than 3% a year on average since 1995. That means that property owners in those areas are paying very low tax rates—far lower than $10 per thousand real market value for cities and counties and $5 for schools.

Meanwhile, property values in outer Southeast Portland, for example, generally have not gone up very much, so many property owners in that area are paying the maximum -- they are "in compression." In some cases, the differences are startling: you can literally have one property owner in the outer East Side paying $3,000 in taxes on a house that is actually worth $200,000, and someone in inner Northeast paying $600 in taxes on a house worth $300,000.

Further, unlike in some parts of the country, when a property in Portland sells, there is no change to the property tax. It's a non-event for property tax purposes. The new owner simply begins paying what the old owner was paying, until the next scheduled 3% annual increase comes around.
***
For continued reading on Albina, a reader recommends a history published in 1993 by the Portland Bureau of Planning:
As someone who lived in Portland for years, and now lives elsewhere in Oregon, I was glad to read the article by Alana Semuels. One book I would recommend to anyone who wants to read about this history at greater length would be Portland's Albina Community, available online from Multnomah County.  Despite the provenance, it's unvarnished. It dates from the '90s, though, before gentrification, when Albina was still two-thirds black and had a different set of problems.
Another reader points to a much older chapter in Portland's history:
I've been an Oregonian my whole life, and can attest to Semuels's article. I've been doing some work on local history, and something that may be worth bringing up is the foundation of the Portland Police, largely by James H. Lappeus.

Lappeus was a former soldier that, after the Mexican-American War, helped form other veterans in 1849 into the Hounds. To quote a 1920 article by Rockwell Hunt, "In short, the Hounds were a band of desperadoes, or public robbers, who committed repeated aggressions and offenses upon the people of San Francisco under the flimsy pretense of opposition to foreigners, given colors by General Persifer Smith's declared intention of driving off all foreigners. The gang paralyzed the town with terror." Hunt gives too much credit to the Committee of Vigilance that expelled the Hounds, but several of the Hounds—Lappeus included—went to Portland. Lappeus, as noted, started the Portland Police.

The distant infrastructure in a relatively unpopulated part of the nation ended up continuing to be a good-old-boy infrastructure with more than a little splash of white criminal activity (see [crime boss] Jim Elkins, for instance). The perception that the police, and general infrastructure, in Portland is racist is a historic fact. The only way to really change it is to recognize and address it. There has been movement to that direction, but it has—and will be—slow going.