Aging and Alone in Manhattan's Chinatown, Cont'd
Editor's Note:
This article previously appeared in a different format as part of The Atlantic's Notes section, retired in 2021.
One of the most popular videos we featured this summer was a 10-minute documentary by Mantai Chow profiling an 80-year-old woman named King-Sim Ng. Ng's husband died in 1985 and she has been living alone in Manhattan's Chinatown for 15 years. Here's a snapshot of her life, as seen by Mantai:
"This is just so sad and disturbing," says reader JT. Another one, Ben, also got emotional over Ng's story:
I think a lot of people can relate to the woman in the video, especially people coming from immigrant families. I almost cried watching this video because Ng, like my mother, also worked in the garment industry and her husband, my father, had also passed away. My mother is in a different living situation, but I can imagine the hardship this woman must have gone through as an immigrant and now alone living in Chinatown.
Do you live alone in your old age and want to share your feelings about it—positive, negative, or somewhere in between? Do you enjoy your independence or wish you still lived with loved ones? Please send us a note at hello@theatlantic.com.
At the end of Mantai's film, Ng disappears after being hit by a car, leaving the audience in angst. One reader pleaded in the comments section, "Do you have an update on her?? I would like to know whether she lived or not." Mantai replied:
I got in touch with Ng finally in June after the film is done. She is back in her apartment safe and sound. She seems to be fine but her legs are still a bit weak. [Her friend] Tay visits Ng in her apartment almost every day now to give her food and stuff. Her children also are helping out! I hope things will get better for her.
A few days ago, after I got a hold of Mantai, he went to see Ng at her apartment and filmed a short update for her fans:
Such a sweet lady! Thanks to Mantai for the followup and happy ending.
Back when the documentary first aired, one reader created a commenting account (ChinatownGirl) just to share this remarkable coincidence:
I came across on the street the lady who "disappeared" in the video moments after she was hit by the car. So here's what really happened:

On a drizzly night, Feb 4 around 10pm, I was walking down Mulberry St. to the subway. I saw a little old lady on the curb, next to her shopping cart. There was a big Italian guy on the phone with 911/ambulance dispatch. Apparently he had swiped her with his car and she had fallen.
Three Chinatown punks (I use that term 100% affectionately) were taking a smoke break outside a bar. One of the punks ran inside and came back out with an umbrella to shield the old lady from the rain. I went over and put my backpack under her arm to keep it out of a puddle. The punks and I asked her in Chinese how she was doing and where it hurt. She said her hip was very painful.

The Italian guy was talking to the 911 operator: "You wanna know how old she is? Er…um, I guess I'd say she's 50-something?" I turned to the old lady and asked her how old she was in Canto. She said "I'm 80!" (White people REALLY can't tell how old Asians are, I thought…)

While waiting for the ambulance, I asked her if there was anyone we should call? She dug into her many layers of coats/vests and pulled out the plastic ID pouch that all Chinatown grandmas have with their reduced-fare Metrocard. There was a worn piece of paper with her kids' numbers on it. When the EMTs got there, I translated all the questions about meds and pain scale/locations. Then I called her son's cellphone. He was in Queens. He was really concerned and thankful, and headed out immediately to meet her at NY Downtown hospital where she'd be taken.

Later that night, I got a text from him:

Hello Good Samaritan, Thank you very much for tending to my mother. I'm sure it was very reassuring for her to have you there. I am at hospital now but she's getting x-rays, so I haven't seen her yet. Thanks again & best regards

I sent a text back:

Sure, of course. A similar accident happened to my grandma at Chatham Sq a couple of months ago while she was crossing with her shopping cart too. I'm glad I was just passing by in time to help tonight! Hope she gets better soon. Good night,**--**

The next day, my uncles texted me, saying their old Chinatown friend told them I had helped his mom and helped him get to the hospital quickly. I asked my uncles how the stranger knew we were related? Because, they said, their friend only knew of one person named **--** in Chinatown!

Chinatown is not dead. It's got to evolve, but it's not dead. We are still here, our networks are centered here, and they run deep. I encourage more of us to re-engage and re-invent what we want Chinatown to be. What are the strands of the old Chinatown worth preserving? And how do we do that? I would like to hear your thoughts. [If you have any, please email hello@theatlantic.com]

And for those who would ask, Why doesn't the son have his mom live with him in Queens? Why don't they live with her in Chinatown? Why would they let her pick trash in Chinatown streets and spend so many hours alone?

That gets back to the guilt/ambivalence over caring for our elders. Chinatown has been a community of working-class immigrants. We struggle to keep family connectedness across rifts caused by psychological economic trauma, relentless personalities that are required for survival, and the sometimes tragic success of working yourself out of poverty, only to transform your next generation into something that you are not. It's a lot more complex than this video makes it out to be.

This video has gone viral among my Asian-American friends. I guess it speaks to a deep-seated guilt/ambivalence that many of us feel over caring for elderly parents and grandparents. Or a nostalgia for the Chinatown(s) of our childhoods that cannot exist anymore.

As someone who was born, raised, and is still working in Chinatown, I always appreciate a spotlight on the neighborhood, especially a narrative of relatively high production value like this one. However, I could not help but feel from the very beginning that this piece was somewhat sensationalistic. It leads you to believe, from the beginning, that this PoPo is eating out of the garbage, only to reveal moments later that she's feeding birds.

The worst part is where it dramatically says, "she disappeared," then reveals moments later that she was hit by a car. Then the video simply ends, mercilessly leaving the viewer hanging about the old lady's well-being. A bit disingenuous when the filmmaker clearly knows what happened to her.

So now the comments section of TheAtlantic.com is filled with assumptions and condemnations for her "ungrateful" children who have supposedly "abandoned" her. The viewer is left with a sinking feeling that Chinatown is dead—just a husk of a once-thriving society, a place where a sweet old lady would be left alone to die anonymously in the street, a place that's abandoned so hipsters should move in with their bars and galleries. No!  I think this is actually a very dangerous narrative to broadcast, and somewhat irresponsible of the filmmaker!
Mantai replies to his critic:
Thanks for shedding light on what had happened that night. I am the producer and director of the film. I totally agree with you that Chinatown is not dead. The food sharing shown in the film is the proof. She helped her friend, meanwhile getting help from another friend. I think this is a beautiful picture. A lot of kindness and people take care of each other.

One thing I would like to clarify in response to your comment saying that "a bit disingenuous when the filmmaker clearly knows what happened to her." I finished this film in March. The only thing I knew by then was she got hit by a car. I called and went to 20+ hospital but still couldn't find her. I tried to reach out to her family members to no avail. At that point, I did not know her whereabouts and her conditions. Her friends and I only had her home phone number. All we could do was to wait until someone picked up the phone again. As a matter of fact, I [didn't get] in touch with her until lately.

This 10-min documentary is just a glimpse into her life. I agree that it's a lot more complex than that. This film is meant to stir up discussion and bring awareness to the society about the issues facing the elderly people in Chinatown, not to put blame on anyone.
This reader makes a great point in defense of Mantai:
It was apparently not intentional on the filmmaker's part to leave out the information about her ultimate whereabouts and condition that elicited such strong to. However, it would be quite brilliant on his part to leave it out intentionally, because it would be consistent with the troubling feeling of loneliness and the disturbing sense of being practically invisible in a crowded city.

Otherwise, many viewers would not think much more about Ng or elderly people like her, much less take the time to write and criticize the filmmaker or express feelings of what psychology calls "disequilibrium," which is required for learning, inquiry, action, etc. A neatly packaged video with a "happy ending" would be much easier to accept AND move right along to something else.

I speak as a second generation Asian American who—along with friends sharing similar backgrounds—has dealt with issues present in this thought-provoking film. When we pass by an elderly person (or people in similar conditions, such as the homeless or mentally ill), this film, and its unintended ending, reminds us to wonder about that person's life challenges and actually do something that could help ease their burden, because it's not just a movie; it's real life.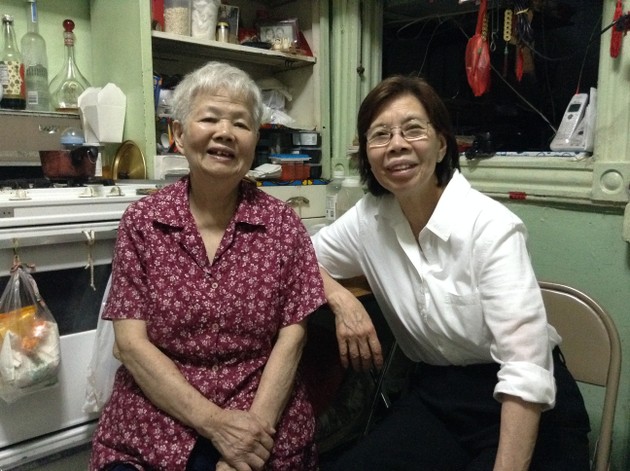 One more reader for now:
As much as I appreciate this quick glimpse into Ng's life, it begs a couple questions. The most glaring one has been asked by other readers: Where are her children, and are they aware of her dire straits? Secondly, is Ng aware of and able to access local charities and agencies that can assist her (i.e. Citymeals on Wheels and food banks)? Thirdly, is there some way that concerned audience members can offer assistance, such as a GoFundMe or a preferred charity?
Mantai replies:
As far as I know, Ng is aware of some community/charity groups in Chinatown. But I know there are elderly people including Ng who are somehow reluctant to reach out for help. The reasons might involve personal preferences, cultural issues, etc. It is a lot more complicated than what we think. I feel like it is the time to ask questions and figure it out together.

As to her family members, I have very limited access to them. To be honest, I don't think it is fair to put blame on her children because we simply don't know much about their family. They might have their own difficulties.

In terms of what we can do, I think we can keep our eyes open. When we see a need in our own community, we give a helping hand. It can be as simple as chatting with the elderly people in the street, buying them lunch and eating with them. This kind of support is especially important for those who are reluctant to reach out to the community centers and social services.