America by Air: River of Mist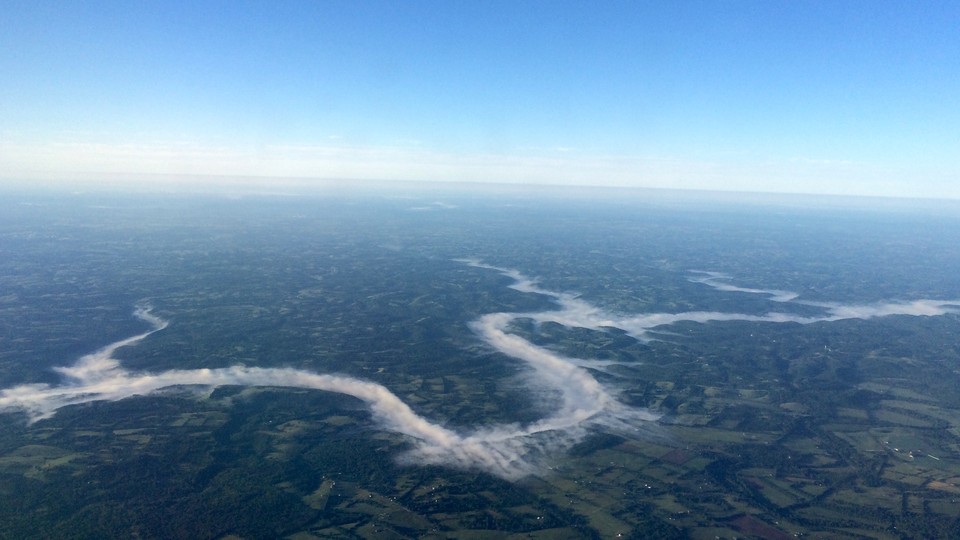 Editor's Note:
This article previously appeared in a different format as part of The Atlantic's Notes section, retired in 2021.
A long-time reader, Paul, checks another state off our list of 50:
I mostly grew up in Lexington, Kentucky, so I am very used to the view of mist rising from the water in the early morning. But in all my years of flying, I guess I'd never headed out until later in the day. When my wife, Katy, recently peeled off to Montreal with our daughter really really early in the morning, and she showed me the photos she'd taken after takeoff, I was really amazed to see what my riverine memories looked like from the air.

Her iPhone geo-located the photo at Nicholasville—a bit south of Lexington. The source of the mist is the Kentucky River, deep in its gorge at this point, and the shape of the river is recognizable from the map. The river is about 500 feet below the bluegrass plateau and the gorge is a quarter-mile wide or so. That is a lot of water vapor!
If you have a great aerial photo of your own to share, especially from one of the states we haven't covered yet—CT, DE, GA, ID, IN, IA, ME, MS, MT, NV, NM, ND, RI, TN, VT, WV—please send our way, ideally with a part of the plane showing: hello@theatlantic.com.