America by Air: Delaware's Cape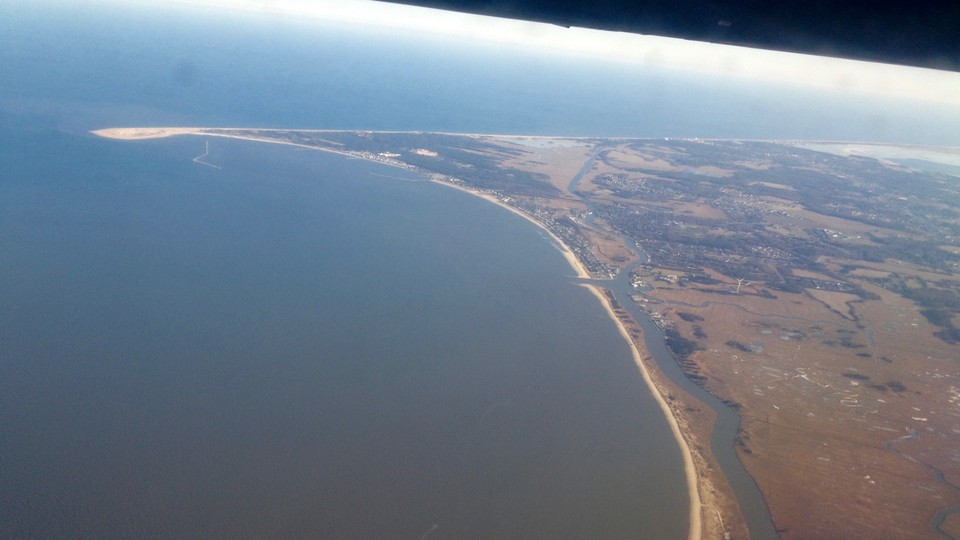 Editor's Note:
This article previously appeared in a different format as part of The Atlantic's Notes section, retired in 2021.
A helpful reader, Daniel, gets us one step closer to 50 states: "I saw in the Notes section that you don't have a photo from Delaware, so I'm happy to lend a hand with a photo from the first state." That bit of trivia I didn't know. Here's more about Daniel and his photo:
I'm a Brit, my wife is a Delawarean. We live abroad but travel back to the States for friends and family about once a year. My wife's family is in Sussex county, DE, and when I first visited, I was struck by the sheer number of place names stolen from my native land: Sussex, Lewes, Seaford, Dover, Kent, Camden—all places I've lived in or near. It's like a little home from home.

Two winters ago, right before one of the major snow storms, we were on our way to see friends and had a connecting flight in Philly. The easiest way for us to get there from Sussex was on a tiny propeller plane from Salisbury, MD. The plane was small enough for either me or my wife to be guaranteed a window seat. She is a better person than me, and so I spent the flight gawking out the window, happily snapping away on my iPhone.

This photo is taken from right above Lewes, DE, where we have family (and of the Cape May ferry fame). The sandy part jutting out, and the adjacent woodland, is Cape Henlopen State Park, a piece of land set aside for public use in the 1680s—which has to make it one of the first. I hadn't visited it at the time I took the photo, but I've been belatedly learning to drive there since, so I've also taken in the trails and ocean front. It has to rank as one of the most idyllic places I've ever seen: beach and forest, sand and soil, shell and pine cone, with a thick salt marsh right in the middle. It's become an almost-sacred place, and so this photo serves as a reminder while we're away from homes, old and new.