Good Political News From D.C.
Editor's Note:
This article previously appeared in a different format as part of The Atlantic's Notes section, retired in 2021.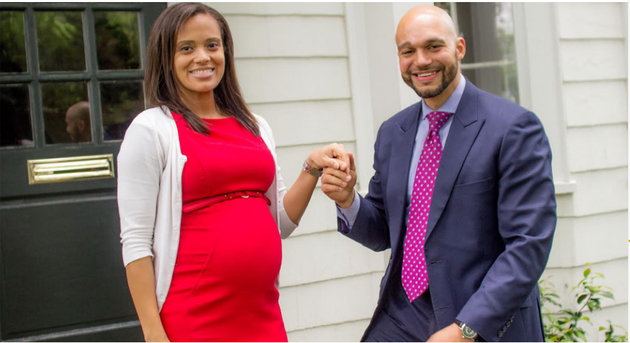 Yes, there is such a thing. And I don't just mean that with today's Washington D.C. primaries, we've officially reached the end of the presidential primary season.
For reasons introduced by but not limited to the themes in this section, over the past year my wife Deb and I have been much more actively engaged in local D.C. politics than before. I was wearing an "I voted!" sticker in this afternoon's Facebook conversation with Yoni Appelbaum and Molly Ball; and the vote I really cared about casting was in the race for an at-large seat on the D.C. City Council.
Vincent Orange—multi-era incumbent, runaway leader in name recognition, presumed winner, and a man known by supporters and critics alike for a "transactional" pay-to-play style of politics (you help me, I help you)—was the person whose name I assumed I would see at the top of the heap tonight.
Instead, Robert White pulled it out! White, who grew up in the District and based his campaign on bridging the Gilded Age divides that affect this city as they do so many others, ran a flat-out good-government campaign.  I won't bother you with the details, which you can read about on his site. But here is a bit from an interview with Greater Greater Washington this spring:
"[My father] stretched every dollar to send me to a Catholic school to give me opportunities that he didn't have but, as DC got more and more expensive, he couldn't afford to hang in there," says White. "Now my father, who is the proudest Washingtonian you would ever meet, looks at DC from his balcony in Prince George's County."
From another interview:
The city is clearly thriving, but it is not difficult to see that there are a lot of people who are not thriving….

This city is still racially stratified, with Wards 5, 7 and 8 in particular, are still predominantly black, and many parts of the city, like Wards 2 and 3, are predominately white. And most other wards fall somewhere on that spectrum. So there are two DCs. There are people who are not seeing or feeling the emergent economy here, and frankly, that's not necessary. It won't happen accidentally. You won't ever accidentally protect people.
***
I saw White at several small-scale neighborhood meetings in recent weeks, including one just ten days ago, when he and his near-full-term pregnant wife Christy, a SEC lawyer, spent a Friday evening talking with a dozen local voters (including me). After these sessions I thought: this is a guy I'd love to see in government. And: he probably doesn't have a chance.
Even this afternoon, the Washington City Paper was was reporting that White faced tough odds. About the same time, I spoke with a senior city official who supported White but said, "I just don't see how he can win." So I cast my vote for him thinking: well, a higher losing total will still be a moral victory.
Yet when just now I got back into news-realm after an evening event, I see … that Robert White won! Narrowly to be sure, but a win is a win.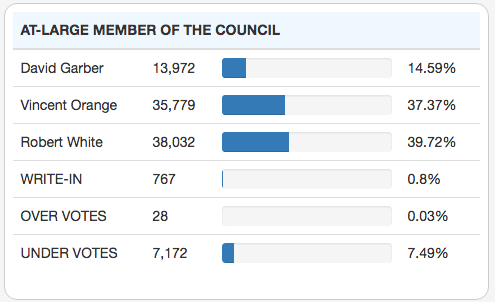 Technically it's just the Democratic primary, but this is DC. And the city has big problems—as White said after the results came in, Now the hard part begins. But tonight's results are a welcome surprise. Congratulations to Robert White and his team.
(Also, Hillary Clinton closed out the primary season with a very big win here.)