America by Air: The Least Scenic Way Into Chicago
Editor's Note:
This article previously appeared in a different format as part of The Atlantic's Notes section, retired in 2021.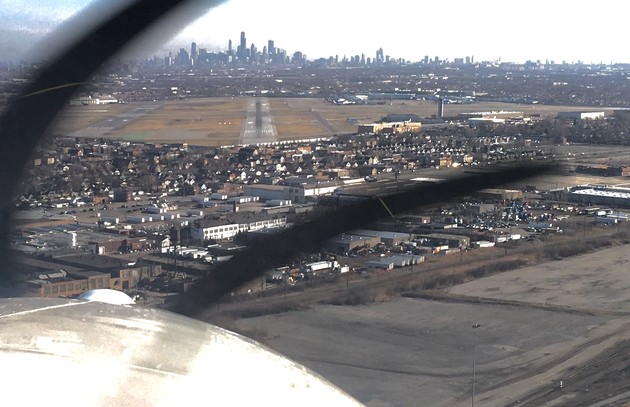 This reader is a three-time poster to the aerial series: first above the Badlands of South Dakota, then flying past wind turbines in Colorado, then looking down over the Missouri River. Now he pivots off our most recent post, from O'Hare:
I'm landing from the south at Midway (MDW) with downtown Chicago in the background. As any passenger who has landed here can attest, Midway has a nerve-wracking approach over dense urban geography.
There is none of the bucolic open space of a traditional airport approach zone, transitioning slowly from developed landscape, to highway, and finally open fields surrounding the airport. At Midway, it's railroad yards, industrial sprawl, and—most incongruous of all—suburban houses directly across the street from the airport fence. You get the very urgent sense that the pilot needs to set the plane down "on the numbers" or else bad things will happen just 6000 feet down at the other end of the runway.

Midway is a tiny airport considering the volume of traffic it handles. It occupies a "section" of land. A section is 640 acres, and this land unit traces its origin to the Northwest Ordinance. You can clearly see the old section lines in the street-scape of Chicago with major arteries standing out in bold relief running along the traditional homestead boundaries. In contrast, O'Hare International (ORD) covers over 7000 acres. O'Hare is so vast that it's literally bucolic, with exotic animals grazing on its grassy expanse.

I had always assumed that the airport took its name from a geographic reference regarding its physical relationship to downtown Chicago. But this only demonstrates my historical ignorance, since the field in fact was named in honor of the WWII Battle of Midway—the historic turning point in the Pacific campaign. Chicago's other airport, O'Hare, owes its name to a local WWII hero Butch O'Hare who received the Medal of Honor for his service in the Pacific theater.

Chicago used to have a third airport, Meigs Field, which occupied a prime location on the lakefront. The story of its closing, including concerns over terrorism, elite privilege, and hard-ball Illinois politics, was a sad blow to general aviation.