America by Air: Grand Canyon Covered in Snow
Editor's Note:
This article previously appeared in a different format as part of The Atlantic's Notes section, retired in 2021.
Here's a wintry scene you don't usually associate with the red rocks of the country's biggest canyon: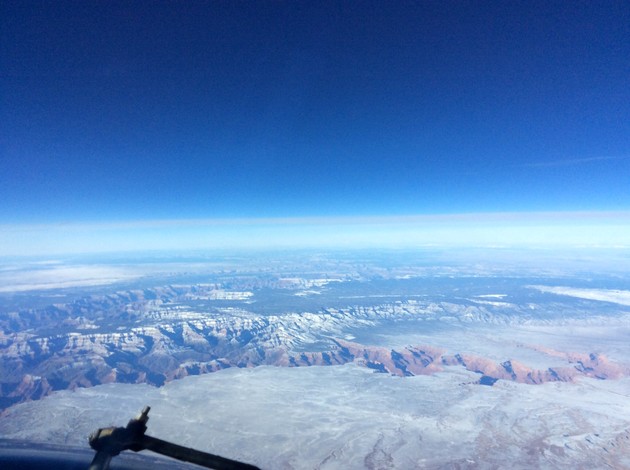 Looking NW over fresh snowfall on the Grand Canyon from 40,000 ft on January 12. A sliver of the nose of the Boeing 737, including my windshield wiper, in the foreground.
Perusing the Atlantic archives for other scenes from the Grand Canyon, I came across a great passage from Peter Davison in our October 1997 issue. It's from his travel piece on Sedona, Arizona, the scenic town south of the canyon:
Landscape on the Arizona scale challenges the resources of human speech; it beggared [novelist Zane] Grey, who had to resort to stilted terms from the construction industry to describe the mighty cliffs of the Grand Canyon: "Turrets, mesas, domes, parapets, and escarpments gave the appearance of an architectural work of giant hands." To use such language for the vastness of these badlands is to commend the horse in the lingo of the horsefly. There's an old story that a priest and a cowboy arrived together at the canyon's North Rim and stood silent a while. Finally the priest fell upon his knees and exclaimed, "O Lord, how wonderful are thy works!" The cowboy ruminated, spat, and muttered, "Don't it beat hell?"
If you've captured your own aerial view of the Grand Canyon, or nearby Sedona, with part of the plane within the camera's frame, please drop us a note: hello@theatlantic.com.