America by Air: Land of the Midnight Sun
Editor's Note:
This article previously appeared in a different format as part of The Atlantic's Notes section, retired in 2021.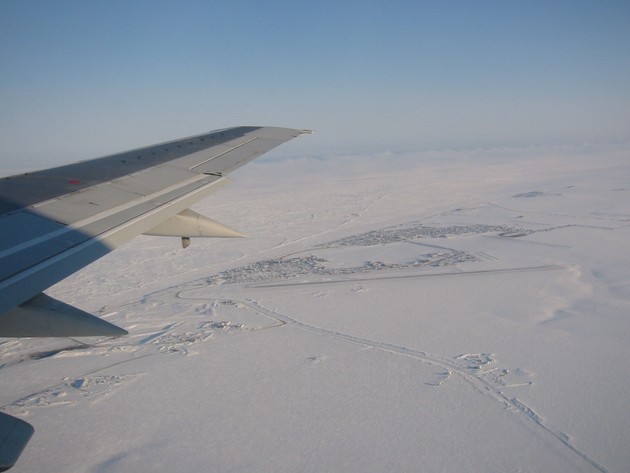 A reader writes:
Fun series! This is actually an old photo from March 2008 flying into Barrow, Alaska. I'm a contractor/scientist at NOAA and am super lucky that I get to travel to lots of cool (and often cold) places to do maintenance on atmospheric instruments—for example, at their baseline observatory just outside the town of Barrow.

Barrow is on the north coast of Alaska, and while there's open water in the summer, when I took this picture it was all frozen. The sea ice is the bumpy-looking snow between the wing of the plane and the town, while the snow-covered tundra is smooth.  
A previous view above the airport in Barrow is here, along with an explanation of why the area is under environmental threat. Less ominously, since May 10, Barrow has been covered in sunlight around the clock; the sun doesn't set for three months during the summer: