The First Infantry Women of the U.S. Marines
The Corps has approved two women for roles previously open only to men.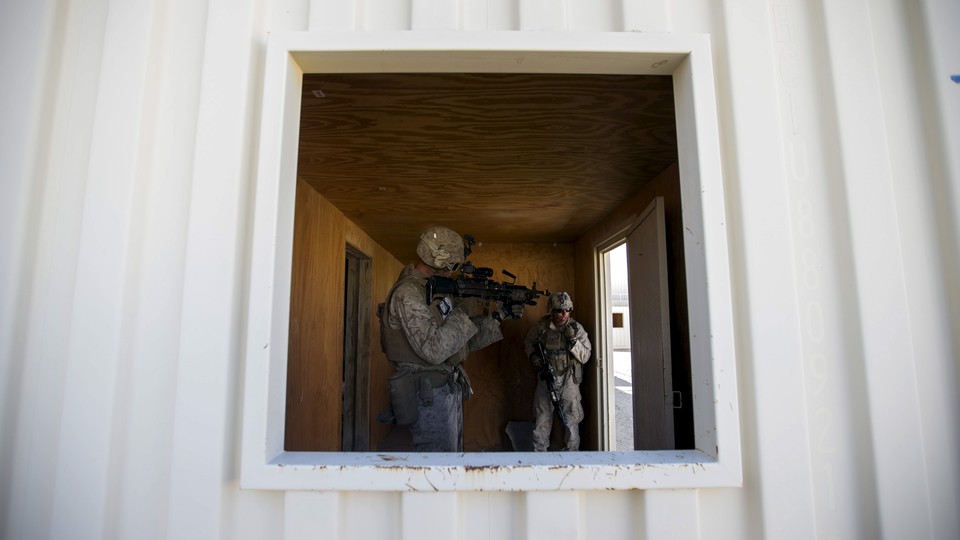 The U.S. Marine Corps has allowed two female service members to join the infantry, marking the first time women will hold jobs in the combat force.
The Marines have approved one woman to become a rifleman and another to become a machine gunner, The Military Times reported Monday. Both women requested the jobs.
"The Corps applauds the time and efforts of those Marines who volunteered," said Captain Philip Kulczewski, a Marine spokesman at the Pentagon. More from The Military Times:
Since no women have graduated from the service's Infantry Officer Course, female Marine or Navy officers assigned to infantry battalions will serve in support roles. The 30th female Marine to attempt IOC left her class on April 21 after she was unable to complete two hikes. She has the opportunity to attempt the course again in July.
The Marines did not release the women's names. Under the service's gender-integration policy, two female officers will be assigned to the infantry unit 90 days before its new members arrive.
The U.S. military announced in December it would open all combat jobs in every branch of the armed forces to women starting this year. "They'll be able to serve as Army Rangers and Green Berets, Navy SEALs, Marine Corps infantry, Air Force parajumpers, and everything else that was previously open only to men," U.S. Defense Secretary Ash Carter said at the time.
Carter approved the Marine Corps' gender integration plan in March, making 233 women who graduated from infantry training and other military occupational-specialty schools eligible to apply for combat jobs.
The U.S. military will see several firsts for female service members this year. The Army announced last month that 22 women would be commissioned as infantry and armor officers for the first time. A female staff sergeant will attempt the six-week course of the Marine Corps's special-operations command this summer; if she completes training, she could become the first female critical-skills operator. The Navy has begun collecting applications for SEAL training from men and women, but no women have applied as of this month.
---
Related Video