West, Texas, Explosion Was a 'Criminal Act'
Federal investigators said the fertilizer-plant fire in 2013 that killed 15 people was deliberately set.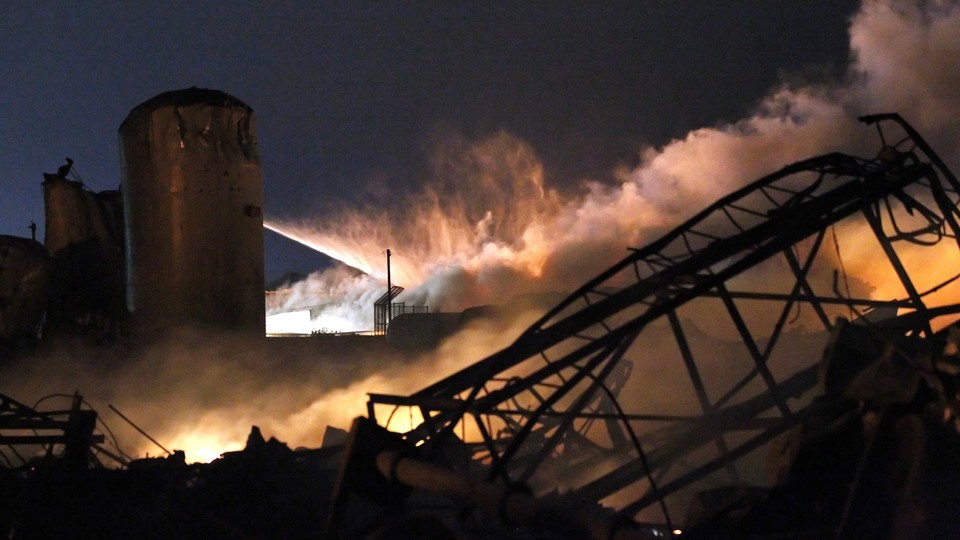 The April 2013 fire that engulfed a fertilizer plant in West, Texas, and killed 15 people was set on purpose, federal investigators announced Wednesday.
"This fire was a criminal act," Robert Elder, the special agent in charge of the Bureau of Alcohol, Tobacco, Firearms and Explosives (ATF), said at a news conference.
ATF, which led the investigation, did not say if murder charges connected to the fire would be filed. Investigators interviewed 400 people and spent $2 million on the investigation, ATF officials said. Twelve of the 15 people who were killed were emergency responders. Another 200 people were wounded in the blast.
That night, a fire broke out at the West Fertilizer Co. in the town of West, about 70 miles south of Dallas. Twenty minutes later, the plant exploded with such force it caused a magnitude-2.1 earthquake. "It was like a nuclear bomb went off," West Mayor Tommy Muska said.
After the explosion, investigators from the U.S. Chemical Safety Board said the explosion was preventable, adding the plant's 270 tons of ammonium nitrate that exploded from the fire was a serious hazard. The explosion was a national tragedy, prompting a visit from President Obama for a memorial service in nearby Waco, Texas.