The Controversy Over a Photograph At West Point
The U.S. Military Academy said it won't punish the cadets seen in the photograph with their fists raised.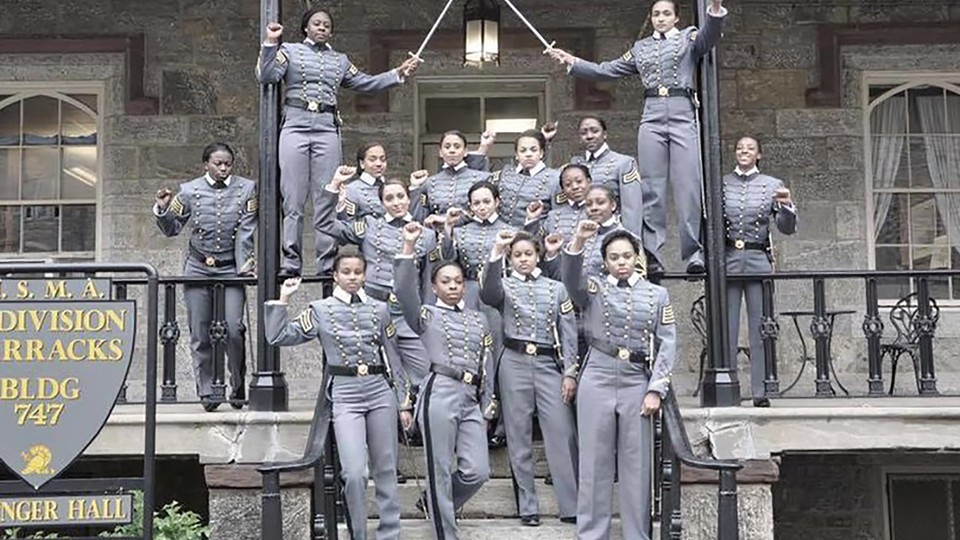 The U.S. Military Academy at West Point will not punish 16 graduating African-American female cadets seen in a photograph with their fists raised—an action that prompted speculation they were celebrating the Black Lives Matter movement. But the officer who investigated the photograph after interviewing the women and others said he did find their actions "inappropriate."
Here's a statement from West Point:
The inquiry concluded that the photo was among several taken in the spur-of-the-moment. It was intended to demonstrate "unity" and "pride," according to the findings of the inquiry.

In addition to concluding there was no violation of DOD Directive 1344.10, the findings state, "that based upon available evidence none of the participants, through their actions, intended to show support for a political movement."
Controversy over the photograph, taken on April 26, erupted after it was published in the Army Times. Many commenters speculated the women were celebrating the Black Lives Matter movement; others said it was black-power salute akin to the ones raised by John Carlos and Tommie Smith at the 1968 Mexico City Olympics. While some of those commenters were sympathetic to the women in the photograph, others pointed out that it violated military code, specifically a regulation governing members of the armed forces engaging in permissible political activities. They shall, the rule says, "Refrain from participating in any political activity while in military uniform, as proscribed by Reference (c), or using Government facilities or resources for furthering political activities." The women themselves have not themselves commented on the photograph.
The officer who investigated the photograph wrote in the report:
Based on the fact that the photo has caused a perception of impropriety on the part of the sixteen female Cadets, I recommend all photographed individuals receive a block of instruction designed and implemented by the Simon Center for Professional Military Excellence, intended to educate the Cadets on the impact of their actions. I recommend this instruction be completed prior to the May graduation of the USMA Class of 2016. I do not feel the graduation of any of the sixteen Cadets in the photograph should be delayed, so long as they display an understanding of how their actions as Cadets and future Officers were inappropriate, at the conclusion of the instruction.
You can read the inquiry here.