A Violent Weekend in Chicago
More than 50 people were shot and eight were killed over the weekend, putting the city on track to hit 500 homicides this year.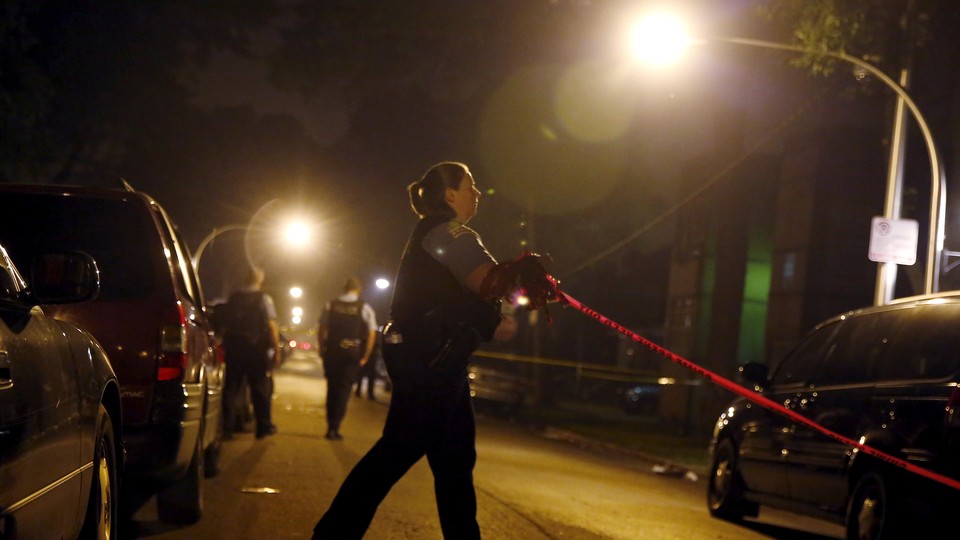 More than 50 people were shot in Chicago over the weekend, leaving eight people dead between Friday afternoon and early Monday morning.
In one shooting, a 35-year-old man was shot in the back and killed on the North Side. In another, a 58-year-old man was shot in the head and killed at his dinner table by gunfire from outside on the Southwest Side.
The weekend was the most violent in the city since the end of September. There's deeper concern that violence will continue to rise as the summer approaches. According to the Chicago Tribune:
On April 20, Chicago reached 1,000 shooting victims for the year, six to nine weeks earlier than in the previous four years, according to data compiled by the Tribune. That grim milestone, for instance, wasn't reached until June 4 last year. Perhaps even more troubling, this marks the third consecutive year in which Chicago has seen double-digit increases in shootings.
Chicago has recorded 200 homicides this year, and is on track for 500 homicides for the entire year. Police Superintendent Eddie Johnson called this weekend's gun violence "completely unacceptable."