Verizon's 'Agreement In Principle' With Union Workers
Friday's deal would put more than 35,000 people back to work.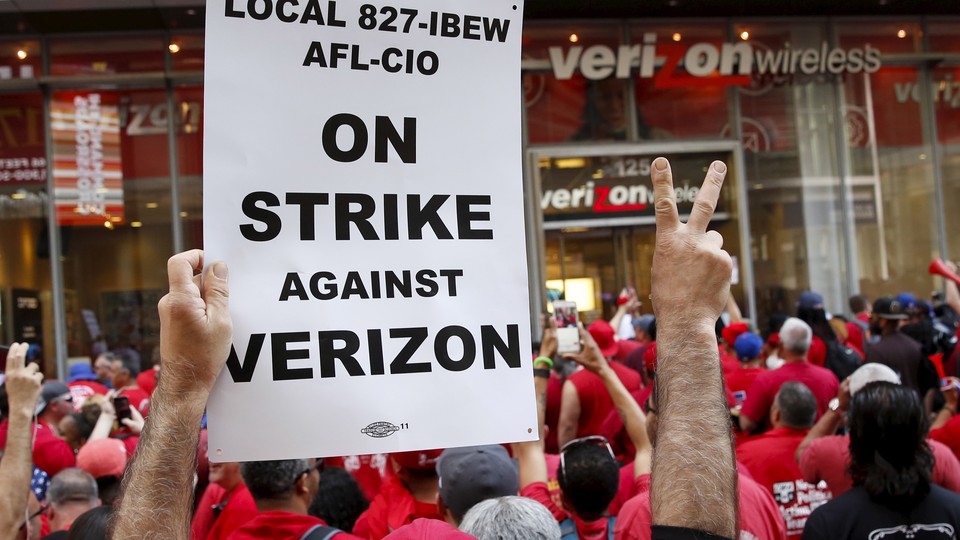 Verizon Communications reached a deal on Friday with its union workers, bringing an end to one of the largest strikes of the past decade.
The deal is an "agreement in principle," and would mean that after it's put in writing, Verizon and the Communications Workers of America would review the contracts. If signed, it would put more than 35,000 people back to work.
U.S. Labor Secretary Thomas Perez had helped the negotiations for the past two weeks, and in a statement he said:
Today, I am pleased to announce that the parties have reached an agreement in principle on a four-year contract, resolving the open issues in the ongoing labor dispute between Verizon's workers, unions, and management. The parties are now working to reduce the agreement to writing, after which the proposal will be submitted to CWA and IBEW union members for ratification.
Union workers along the East Coast walked off the job on April 13 because they said Verizon wanted to cap pensions, cut benefits, and outsource some work overseas or to Mexico. Verizon said it offered to increase wages.
The strike had the potential to affect the Labor Department's upcoming unemployment numbers.