Uber and Lyft Say Goodbye (For Now) to Austin
The ride-sharing companies suspend service in Austin, Texas, after voters refused to pass a proposal that would have loosened city oversight.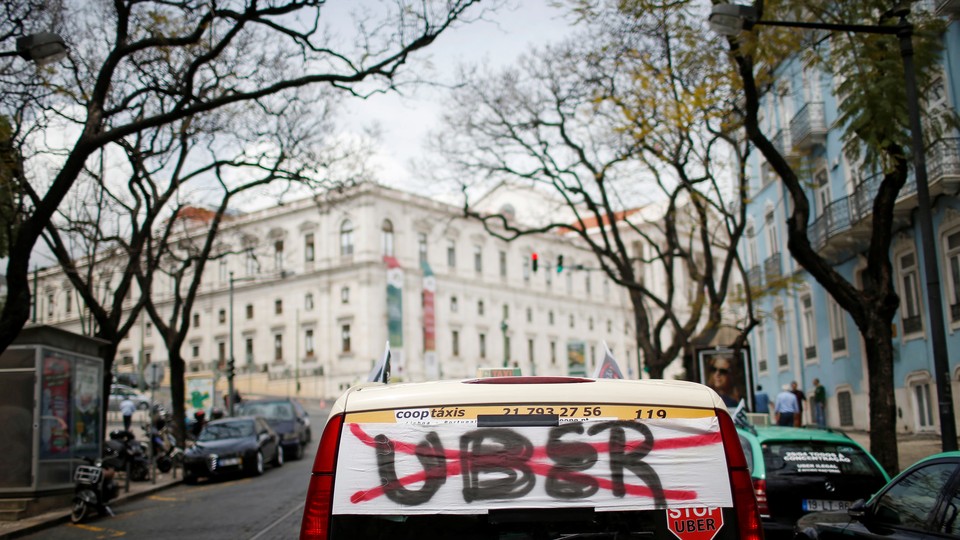 The ride-sharing companies Uber and Lyft said Monday they'd stop service in Austin, Texas, because voters rejected a proposal that would have loosened regulations on the two companies.
Last year, Austin's City Council approved a proposition that would hold Uber and Lyft to similar standards as cab companies, including fingerprinted background checks for drivers. Both companies supported a new proposal that would have annulled those stricter regulations, but on Saturday, 56 percent of voters turned it down. On Monday, the Austin American-Statesman reported that Austin woke up to:
People with the Uber app got the following message when they tried to request a ride Monday morning: "No pickups as of May 9th. Uber not currently available in Austin. Due to regulations passed by City Council, Uber is no longer available within Austin city limits. We hope to resume operations under modern ridesharing regulations in the near future." Below that message is a "contact City Council" link, which directs users to theCity Council's contact page that allows people to email all council members.

Lyft users got this message: "Due to City Council action, Lyft cannot operate in Austin. Contact your City Council member now to tell them you want Lyft." Below the message is a "let them know" button
Ride-sharing services and the cab industry have battled in cities across the U.S., and the world, because they rely on the same customer base. The larger complaint by the cab industry is that it must comply with city regulations, while the app-based companies are self-monitored. Even issues such as background checks have proven contentious. That was the focus of a lawsuit last year in California, when19 cab companies sued Uber because the app advertises itself as "the safest rides on the road." Taxi companies said that wasn't true, because its drivers underwent more strict background checks, like fingerprinting.
In Austin, Uber and Lyft spent $8 million to support the new proposition, which comes to about $200 a vote. And while they have stopped their service, the Statesman reported the ride-hailing app GetMe is still operating in the city.