An Indictment For 20,000 Gallons of Oil Spilled in the Pacific
Investigators looking into the 2015 oil spill near Santa Barbara, California, found the pipeline was cracked and nearly worn through.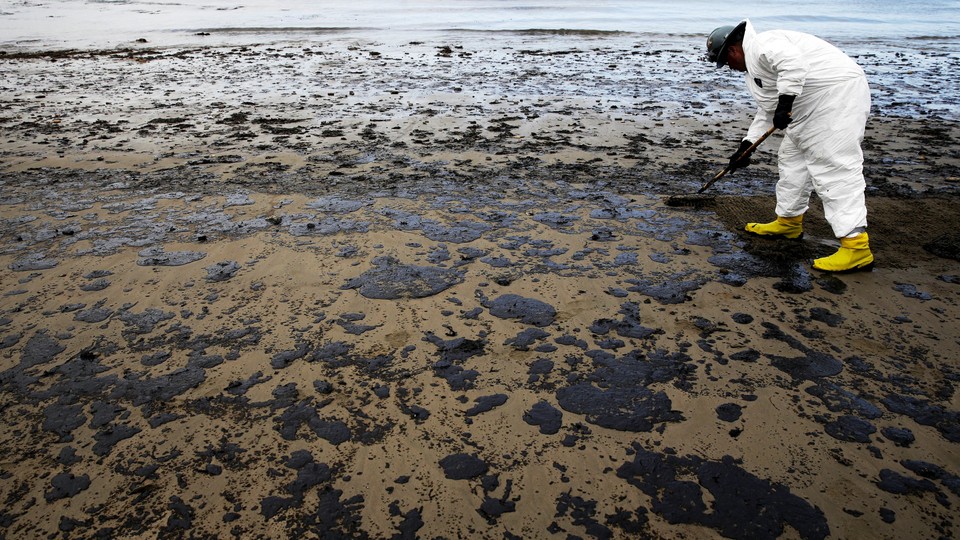 The company operating the oil pipeline that burst in May 2015 near Santa Barbara, California, and spilled more than 100,000 gallons of crude near a protected state beach park  has been indicted, the company announced Tuesday.
Plains All American Pipeline, based in Houston, Texas, said it and one of its employees have been indicted on 46 counts related to the spill. In a statement, the company defended itself, saying:
Plains believes that neither the company nor any of its employees engaged in any criminal behavior at any time in connection with this accident, and that criminal charges are unwarranted. We will vigorously defend ourselves against these charges and are confident we will demonstrate that the charges have no merit and represent an inappropriate attempt to criminalize an unfortunate accident.
The company's pipeline broke May 19 near Refugio State Beach, which is just west of Santa Barbara and surrounded by the Los Padres National Forest. The pipeline had deteriorated to such a point that it'd worn down to 1/16 of an inch in some places, and also had a six-inch crack, according to federal investigators with the Pipeline and Hazardous Materials Safety Administration. Of the 101,000 gallons spilled, more than 20,000 found its way into the Pacific Ocean and killed more than 120 birds, and 65 marine mammals.
The the Los Angeles Times reported that in the 12 years before the Santa Barbara spill, Plains All American Pipeline had been connected to dozens of spills releasing almost 2 million gallons "of hazardous liquid" in Canada and the U.S.
In its defense, Plains All American Pipeline said it'd spent $150 million in cleanup-costs and spill-related matters.