The Charges Against Two California Deputies
Two deputies have been charged with multiple felonies in connection with beating a suspected car thief in San Francisco.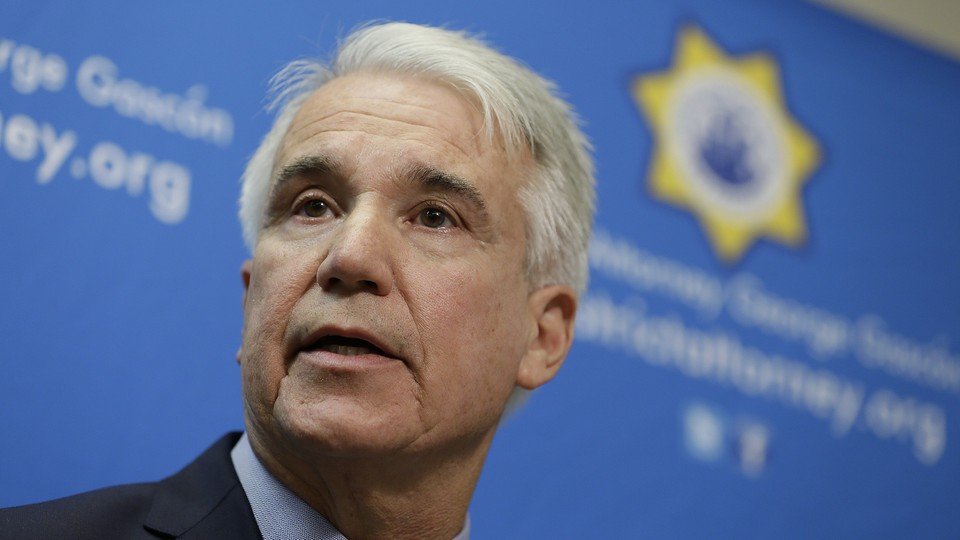 Two California sheriff's deputies were charged Tuesday in connection with the beating of a suspected car thief in San Francisco, almost six months after surveillance-camera footage of the incident was released to the public.
The San Francisco public defender's office received the alleyway surveillance footage from an anonymous sender and posted it on YouTube in November. In the video, two deputies with the Alameda County Sheriff's Office can be seen chasing a suspected car thief––later identified as Stanislav Petrov––into an alley in the Mission District, tackle him, then kick and beat him with batons until other officers arrive.
The two deputies, Paul Wieber and Luis Santamaria, have been charged each with multiple felonies, including assault with a deadly weapon, battery, and assault under color of authority.
The San Francisco Chronicle reported that the video:
… captured the deputies swinging on Petrov "over the course of 40 seconds, striking him at least 30 times," prosecutors wrote. "During the beating, Mr. Petrov is heard crying out and saying, 'I'm sorry,' 'Help me,' and 'Oh my God.' The deputies stopped striking Mr. Petrov when other peace officers from multiple law enforcement agencies arrived."

Petrov suffered a concussion with a mild brain injury, deep head cuts and multiple broken bones in both hands, authorities said. Surgeons had to insert plates, screws and pins into his hands to repair them.
Petrov's attorneys have filed a complaint against Alameda County that alleges deputies took "trophy photos" with Petrov's bleeding body after the beating, and that the two deputies were allowed to change their original reports after the surveillance video surfaced. Those altered reports were only made public after they were requested by the Center for Human Rights and Privacy, a civil-rights group.
San Francisco District Attorney George Gascón said Tuesday that an investigation into the incident would continue. He said there were still "allegations related to false police statements, theft, bribery, witness tampering, and/or other wrongdoing related to this case." He did not explain the time lapse between the release of the video and the announcement of charges.
In March, the Chronicle reported that a third deputy seen in the video allegedly stole money and jewelry from Petrov, then gave it to a homeless couple who had witnessed the beating.