Ringling's Last Elephants
One of the circus company's iconic acts performs for the last time Sunday.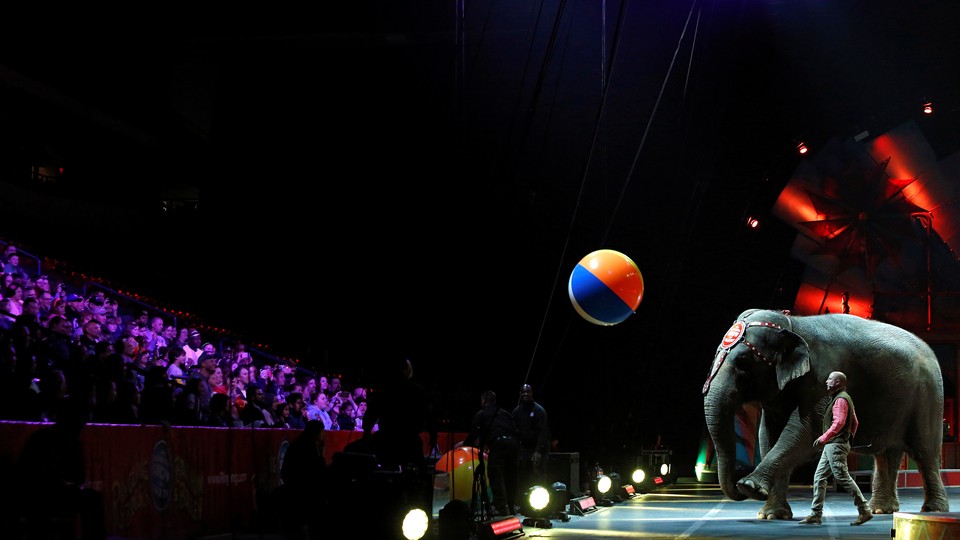 Elephants will perform for the last time at Ringling Bros. and Barnum & Bailey Circus on Sunday, marking the end of a 200-year tradition for the entertainers.
Six Asian elephants in Providence, Rhode Island, and five Asian elephants in Wilkes-Barre, Pennsylvania, will take the stage for their last shows. The animals will then head to an elephant-conservation center in Florida owned by Feld Entertainment, the parent company of Ringling, according to the AP. The 200-acre facility currently houses 40 Asian elephants that have been involved in the circus company, and constitutes the largest concentration of the species in North America.
For years, animal-rights activists have described Ringling's use of elephants in shows as animal abuse. They pointed to elephant handlers' use of bullhooks—long, hooked poles—to train the animals to perform tricks and dance routines. In 2011, the U.S. Department of Agriculture fined Feld Entertainment $270,000 for allegedly violating federal animal-welfare laws. In 2014, several animal-rights groups, including the Humane Society of the United States, paid Feld $15.6 million over a lawsuit filed in 2000 that accused Ringling of mistreating elephants after a former Ringling employee was found to have been paid by the groups to support their charges.
In his announcement of the elephants' retirement last March, Kenneth Feld, the president of Feld Entertainment, said the "biggest issue" was "a lot of legislation in different cities and different municipalities" regulating the treatment of animals that made it difficult for Ringling to schedule shows. But he also acknowledged a change in public opinion toward the use of animals for entertainment purposes.
"There's been, on the part of our consumers, a mood shift where they may not want to see elephants transported from city to city," Feld said.
Ringling, which visits more than 100 cities every year, will continue to use lions, tigers, horses and other animals in its shows.