The Navajo Farmland Without Water
New Mexico farmers are re-evaluating the state of their crops after a pipeline broke earlier this month.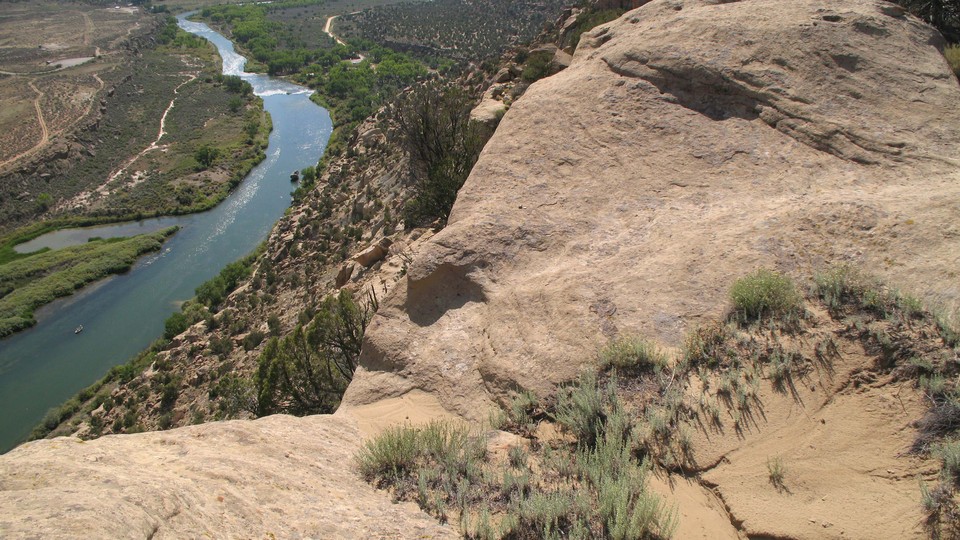 Tens of thousands of acres of farmland on the Navajo Nation have been without water for more than week because of a broken pipeline that may not be fixed until next month.
The farmland, located in Farmington, New Mexico, is managed by the Navajo Agricultural Products Industry (NAPI) and produces products under the "Navajo Pride" brand.
Most of the crops at the Farmington farm had already been planted when a 44-year-old concrete pipe failed on May 13, cutting off water supply to 72,000 acres, NAPI CEO Wilton Charley told The Farmington Daily Times the day after officials discovered the break. Crops include alfalfa, beans, potatoes, corn, pumpkins, and wheat. Charley told the AP on Monday the water that was left in the pipe at the time of the break is being rationed across the farmland. He said he believes the crops can go three weeks with little to no water, but any longer is dangerous. Some farmers who lease land on the farm have been forced to cut staff because of the break, the AP reported.
Crews are working to excavate the pipe. Officials say they hope to repair the damage by June 11. LoRenzo Bates, a farmer who represents the region on the Navajo Nation Council, said earlier this month the broken section of pipe was built in the early 1970s, and workers will have to find a manufacturer that can replace it. "This is not one of those items that come off the shelf," he told The Farmington Daily Times.
The pipe carries water to the farm from the San Juan River, a 383-mile long tributary of the Colorado River, through the U.S. government-built Navajo Dam in New Mexico. Last summer, an accidental mine spill that sent 3 million gallons of wastewater into the Animas River polluted parts of the San Juan River that fed Navajo farmland. The Navajo Nation advised farms against using the river to water crops and threatened to sue the U.S. Environmental Protection Agency, whose crews were inspecting the mine at the time of the spill.