'How Dumb is Dumb?': The Resignation of a Top L.A. County Sheriff's Official
The Los Angeles Times published crude comments emailed or forwarded by Tom Angel, the department's chief of staff, in his previous position.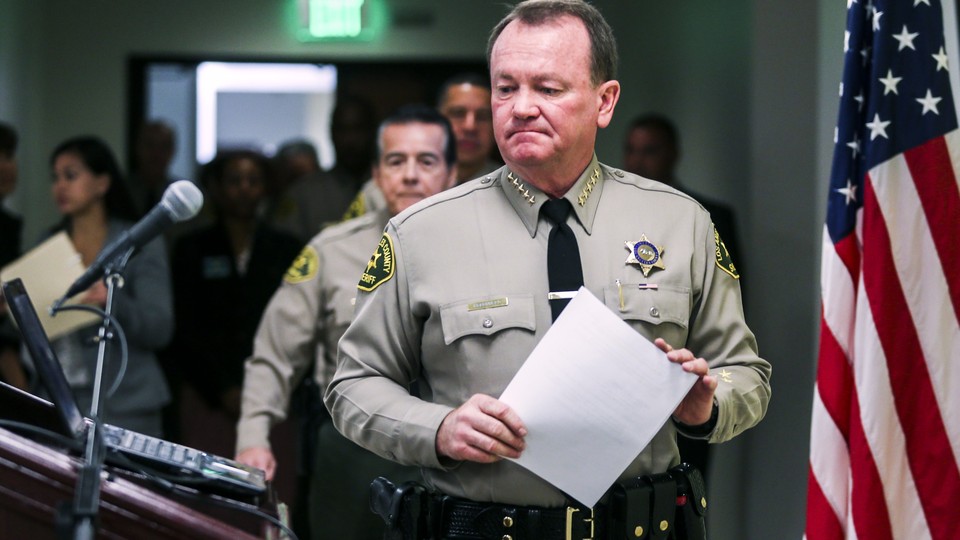 A high-ranking Los Angeles County Sheriff's official resigned after emails were discovered in which he made racist and crude comments about Muslims, blacks, Latinos, and women.
As chief of staff, Tom Angel was one of the top aides to Sheriff Jim McDonnell, who had at first said he wouldn't punish Angel. The Los Angeles Times published the emails late last week, and only after wide criticism did Angel finally resign. The emails were sent while Angel held a previous post with the Burbank Police Department. The Times reported he sent them:
...  in 2012 and 2013 when he was the No. 2 police official in Burbank. There, too, he had been brought in to reform an agency reeling from misconduct in its ranks, including allegations of brutality, racism and sexual harassment.

"I took my Biology exam last Friday," said one of the emails, which The Times obtained from the city of Burbank under the state's public records law. "I was asked to name two things commonly found in cells. Apparently 'Blacks' and 'Mexicans' were NOT the correct answers."

Another email ridiculed concerns about the racial profiling of Muslims as terrorism suspects. A third included the subject line "How dumb is dumb?" and listed 20 reasons "Muslim Terrorists are so quick to commit suicide," including "Towels for hats," "Constant wailing from some idiot in a tower" and "You can't wash off the smell of donkey."
The Los Angeles County Sheriff's office has 18,000 employees, and is the largest sheriff's department in the world. Angel's boss, McDonnell, won election in November 2014, and has tried to move the department past recent scandals, which include racism, and inmates who've accused deputies of beating them.
McDonnell told the Times he plans to turn the experience into a "learning opportunity." He said he'd randomly audit employees' emails, that the department would look at its current cultural-sensitivity training programs, and that he'd meet with community groups. Angel hasn't spoken publicly since he resigned, but the Times did talk with him beforehand. The paper wrote that Angel said he'd not meant "to embarrass or demean anyone," and that "it was unfortunate that his work emails could be obtained by the public under the state's records laws."