The Largest Auto Safety Recall in U.S. History
Faulty airbag inflators by the Japanese manufacturer Takata have caused 10 deaths and more than 100 injuries.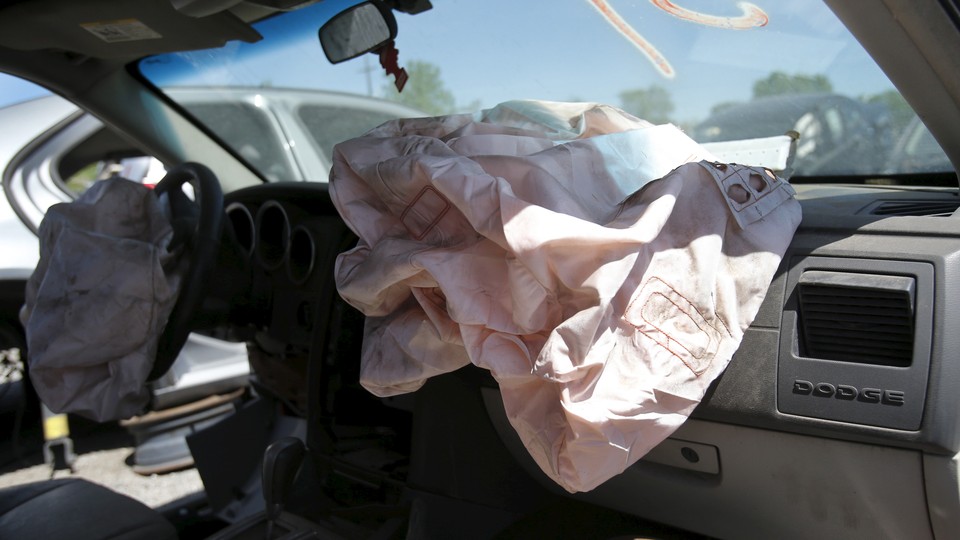 In what U.S. officials are calling "the largest and most complex safety recall in U.S. history," Japanese manufacturer Takata is recalling an additional 35 million to 40 million airbag inflators that have been linked to 10 deaths and more than 100 injuries.
The National Highway Traffic Safety Administration announced the recalls Wednesday, adding to the 28.8 million inflators that were recalled since 2008. The administration, which serves under the Department of Transportation, described in a statement the dangers posed by the airbags, which are installed in cars made by more than dozen car manufacturers around the world.
A combination of time, environmental moisture and fluctuating high temperatures contribute to the degradation of the ammonium nitrate propellant in the inflators. Such degradation can cause the propellant to burn too quickly, rupturing the inflator module and sending shrapnel through the air bag and into the vehicle occupants.
The recalls will take place in five phases between this month and December 2019. They will affect auto manufacturers like Volkswagen, Audi, and Mercedes-Benz.
In November, the U.S. fined Takata $70 million for failing to tell government regulators the airbags were defective. That fine could grow to $200 million, The Wall Street Journal reports. The Department of Justice has also opened a criminal investigation into the faulty airbags.