Iwo Jima, Misidentified?
More than 70 years after the iconic World War II photo, the Marine Corps is investigating the identities of the men who raised the flag.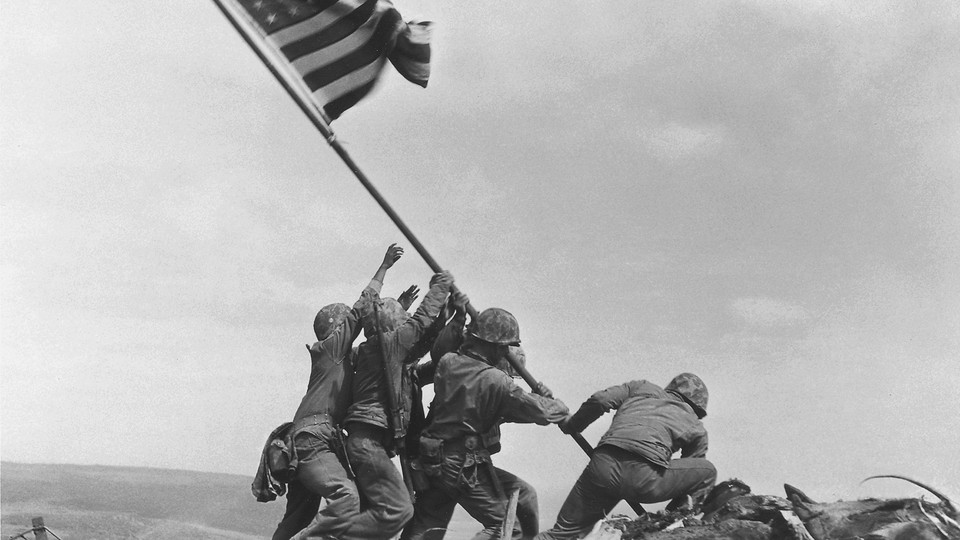 It might be the most iconic photo of U.S. military history: six men raising an American flag atop Mt. Suribachi during the battle against the Japanese on Iwo Jima. But more than 70 years later, the Marine Corps is looking into whether one of the men was misidentified amid the confusion of the moment.
As the Associated Press reports:
After [AP photographer Joe] Rosenthal shot the photo, the flag-raisers quickly moved onto other tasks, and it was impossible for him to get their names. That task was left to the Marines after the picture prompted an overwhelming response and the government decided to use the image in an upcoming sale of war bonds to finance the continued fighting.
As fighting continued in the 36-day battle, in which 6,500 Americans died, the Marines identified John Bradley, Rene Gagnon, Ira Hayes, Harlon Block, Michael Strank, and Franklin Sousley, all of whom were Marines except Bradley, who was in the Navy. Block, Strank, and Sousley were killed after the photo was taken.
A 2014 article in the Omaha World-Herald questioned whether the men were properly identified, reporting that Bradley might have been mistaken for Harold Henry Schultz, a private first class. Tuesday's announcement from the Marines was the first official acknowledgement Bradley may not be the man in the photo.
This investigation has broader implications, as Bradley's son, James Bradley, wrote the book, "Flags of Our Fathers," the bestseller about the flag-raisers, which was later made into a movie directed by Clint Eastwood.
The fighting on Iwo Jima, an island 660 miles south of Tokyo, between 70,000 Marines and 18,000 Japanese soldiers, began on February 19, 1945. By winning the battle, the U.S. prevented Japan from using the island as a launching point for Japan's fighter planes, a turning point in the Pacific Theater.