The Latest Baghdad Bombing
Dozens were killed in the attack claimed by ISIS on a Shiite neighborhood.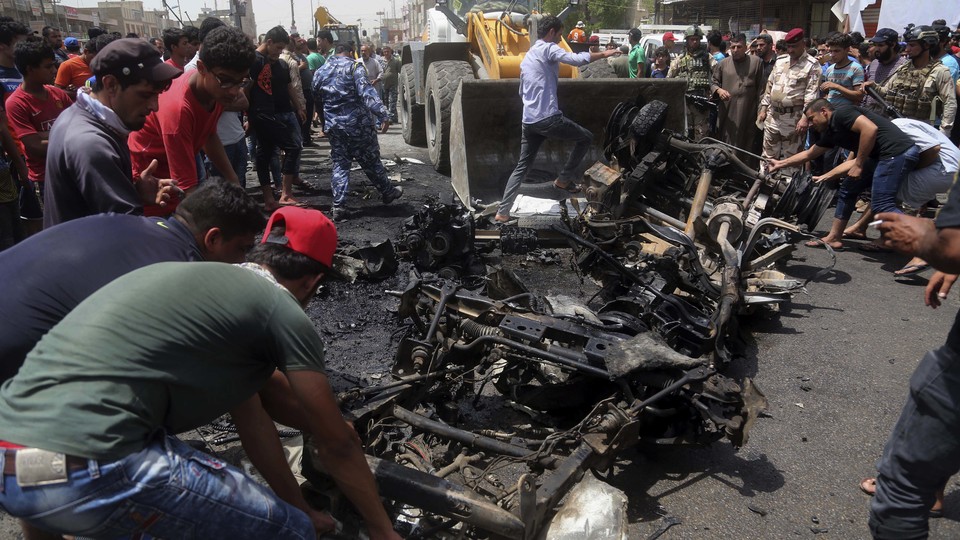 Updated on May 11 at 12:24 p.m. ET
Dozens of people are dead Wednesday in a car-bomb explosion in Baghdad's predominantly Shia Sadr City neighborhood. The death toll in the attack claimed by ISIS has climbed to at least 80, making it the deadliest attack on the Iraqi capital in 2016.
Ambulances rushed to the scene where dozens of residents walked through the twisted and mangled wreckage of cars and other debris that littered the pavement, trying to help the victims. The street was stained red with blood in many places and front-side facades of several buildings were heavily damaged. Smoke billowed from ground-level stores gutted out by the explosion.
Separately, two other blasts in northern Baghdad killed 18 people.
Iraqi and Kurdish forces, backed by the U.S. and its allies, have pushed back ISIS, which controls large parts of Iraq and neighboring Syria. But the group shows the ability to strike targets inside Iraq, and farther afield, with apparent ease.
Overall, the UN says 1,885 civilians were killed in Iraq in the first four months of 2016.