Girl Scouts: Still Mostly White
The 104-year-old organization is having trouble recruiting black and Latina kids. Why?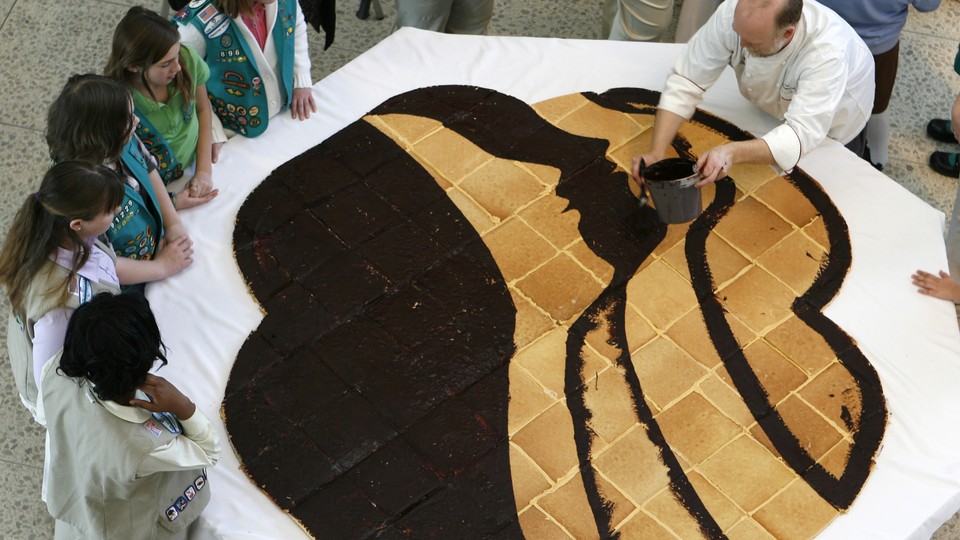 Hillary Clinton. Madeleine Albright. Barbara Walters.* These powerful women have all shaped the course of the United States. And they have something else in common: They were all Girl Scouts.
The girls' leadership organization has more than 2 million current scouts and 59 million living alumnae. Nearly half of all American women have been Girl Scouts at some point in their lives. Their uniforms, badges, and cookies are synonymous with what it means to be an American girl. Or at least a white, suburban American girl.
Girl Scouts has been losing members for more than a decade as it struggles to reach the new American girl, who is more likely than ever to be an ethnic minority or come from poor, immigrant families. Unlike many scouts who followed in their mother's footsteps, these girls and their parents have few connections to the 104-year-old organization. And the Girl Scouts can't seem to find enough volunteers to lead troops for all the girls on the waiting list.
Declining membership is hardly unique to the Girl Scouts—membership in most youth groups is down. To stay relevant, the Girls Scouts has revamped its outdoor-oriented programs to include STEM activities and financial-literacy education. It has also made an aggressive push to reach underserved communities, meaning poorer, ethnic minorities. It hired its first Latina CEO in 2011 and local councils began organizing all-Spanish-speaking scout troops. Most program materials are also available in Spanish. You'd be hard-pressed to find a photo on its website that doesn't prominently show a smiling African American or Hispanic girl. The Girl Scouts has been a largely inclusive organization since the first troop was launched in Georgia in 1912, though black and white girls were segregated in different troops and summer camps until the 1950s. And the organization boasts many influential black alumnae—Condoleezza Rice, for one.
Even though the organization's researchers have highlighted the need to reflect the "changing face of girls" in America, Girl Scouts are still mostly white. The percentage of Latina scouts (12 percent) and African American scouts (11 percent) has hardly budged in the past four years, according to annual data released by the organization. (About 12 percent of scouts chose not to report their race.) Meanwhile, nearly half of girls aged 5 to 17 in the United States are now ethnic minorities, up from 38 percent in 2000. About one in four girls is Latina. Nearly half of all girls live in low-income households, but conversations with local council leaders suggest many Girl Scouts are middle class.
Research shows that youth who work with mentors—like those provided through scouting—are more likely to enroll in college and do better in school. A study by the Girl Scouts Research Institute shows that girls from poorer families reported the most benefits from scouting, particularly in academic performance.
Girl Scouts CEO Anna Maria Chávez declined an interview, but the organization's chief marketing and communications officer, Lynn Godfrey, said the organization is researching ways to improve outreach to Hispanic and African American girls. "There's no quick fix," she wrote in an email. "We need to be thoughtful about implementing strategies that will be meaningful and have lasting results." She did offer one reason for the membership decline: Many kids are increasingly focused on activities such as music, arts, and sports that can lead to college admission and scholarships, she said.
Local Girl Scout councils offer some insight into these challenges. In one Spanish-speaking troop in South Philadelphia, about a dozen Girl Scouts meet every Wednesday evening in the peach-colored building that houses Casa Monarca, a non-profit social-service agency. Most of the girls in Troop #9089 come from poor, Mexican families. Casa Monarca had tried to get a Spanish-speaking troop started before, but staff had trouble finding volunteers. Then, a few months ago, a local high-school Spanish teacher, Teresa Kelley, agreed to help.
Kelley said she has fond memories of camping as a young Girl Scout in suburban Philadelphia. "We were all white, Catholic girls, very different from these girls," she said, gesturing to her group of about a dozen scouts. Once an Italian and Irish working-class neighborhood, South Philadelphia has seen an influx of Mexican and Cambodian immigrants in recent years. Census data shows that nearly half of South Philadelphia is now African American, Asian, or Latino. Quinceañera-dress shops and taquerías seem to outnumber Italian butchers in the neighborhood's famous Italian street market.
"Por mi honor, yo trataré de servir a Dios y a mi patria."
Kelley and the girls gathered into a circle, lifted their right hands in the air, and recited the Girl Scout Promise in Spanish. "Por mi honor, yo trataré de servir a Dios y a mi patria," they began. (On my honor, I will try to serve God and my country). They painted maracas for an upcoming Cinco de Mayo parade in the neighborhood and talked about the true meaning of the holiday. (Hint: It's not Mexico's independence day.) At one point, they brainstormed about how to make the world a better place. On their list: Welcoming immigrant families to the area and showing them around Philadelphia.
Tomasa Pacheco watched her two daughters paint maracas and occasionally helped Kelley keep the girls on task. Pacheco, an undocumented immigrant from central Mexico, had never heard of Girl Scouts until about a month earlier. She had been going to Casa Monarca for English classes when someone suggested her 8-year-old and 5-year-old daughters might enjoy scouting. It was only their third meeting, she said, but the girls now get so excited that they run to Casa Monarca on Wednesday nights.
"It's been really great for them to learn new things that I can't teach them," said Pacheco, who cleans houses in the Philadelphia area. The troop has visited a local animal shelter and an aquarium. Kelley hopes to take them camping this summer, something most of the girls have never done. "It's fun," Pacheco's 8-year-old daughter told me.
Finding members and volunteers in urban neighborhoods is a big challenge, said Krysta O'Connor, a full-time recruiting manager for the Girl Scouts of Eastern Pennsylvania. "It's super hard," she said. "We are trying really hard to get into the city to tell them about us, but it's not something they grew up with in their families. They're a little unsure." She visits South Philadelphia and West Philadelphia often, trying to spread the word about who Girl Scouts are and what they do.
In some ways, Girl Scouts still seems designed for the average suburban family of the 1950s.
Another challenge is the structure of the organization. In some ways, it still seems designed for the average suburban family of the 1950s, with one working parent and stay-at-home moms who could volunteer as troop leaders. Nowadays, especially in urban neighborhoods, children live in homes with working parents or single mothers who don't have time to volunteer or take them to extracurricular activities, O'Connor said. They are also turned off by the annual fee and cost of things like uniforms and summer camp, she said, even though scholarships are available.
Seventeen-year-old Francheska Lopez, who has been a scout since she was 8 years old, had never heard of the Girl Scouts growing up in Puerto Rico and the Dominican Republic. When she moved to Reading, Pennsylvania, she happened to see a group of girls laughing and playing around after class at her elementary school. She asked what was going on, and the teacher invited her to join. "I signed up the next week," she said.
If it weren't her own initiative, she wouldn't have known about it. Lopez said handing out brochures in Spanish is not cutting it. "They need to just try something else," she said. It would help to have more bilingual troop leaders, she said. Two new girls in her troop barely speak English, so they have trouble following the activities. While Spanish-speaking troops have been popping up across the country, the national organization doesn't track the numbers.
Girls Scouts alumnae surveyed by the organization say confidence was the biggest benefit they got from scouting. Lopez agreed: "I wouldn't be speaking to you if I wasn't [a Girl Scout]. I wouldn't have been comfortable," she said. And that's why this recruitment failure matters: Many of these girls, who already face so many obstacles, are missing out on a program that has given millions of others the confidence and some of tools they need to succeed.
---
* This article originally stated that Sandra Day O'Connor is a former Girl Scout due to incorrect information provided by a Girl Scouts council. We regret the error.