The Apparent Hijacking of George Zimmerman's Gun Auction
The names of the subsequently deleted highest bidders for the weapon that killed Trayvon Martin include "Racist McShootFace."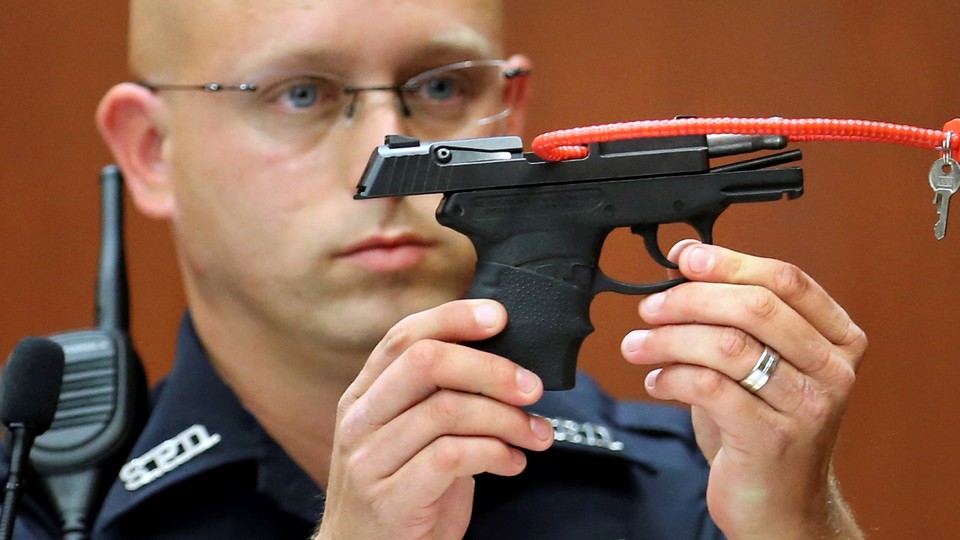 George Zimmerman's plan to sell the pistol he killed Trayvon Martin with appears to have backfired, because the bidding on Friday surpassed $65 million, and the names of the subsequently deleted highest bidders include "Racist McShootFace" and "Tamir Rice," suggesting the auction had been hijacked.
Zimmerman shot 17-year-old Martin in 2012 inside a gated community in Sanford, Florida. He was charged with murder and later acquitted. On Thursday, Zimmerman listed his Kel-Tec PF-9 pistol on Gunbroker.com, and after the site removed his listing, another picked it up. The gun was posted on the United Gun Group's website, and by Friday afternoon it'd received more than 1,000 bids.
Several accounts placed bids of $65 million, and one of those accounts used the name Racist McShootFace. It was later deleted, and the Associated Press reported that:
Other screen names of bidders on the site included "Donald Trump" …  and "Tamir Rice," the name of a black 12-year-old who was shot and killed by Cleveland police in 2014 while playing with a pellet gun.
Another bid above $65 million came from someone named Craig Bryant, but that name too was deleted.
The biddings started at $5,000. Zimmerman's ad said he would donate part of the proceeds to "fight BLM violence against Law Enforcement officers" and to "ensure the demise of Angela Correy's persecution career and Hillary Clinton's anti-firearm rhetoric."
BLM is the Black Lives Matter Movement, which mostly protests police killings of unarmed black men. Corey, whose last name Zimmerman misspelled, is the Florida State Attorney who unsuccessfully prosecuted him in Martin's death.
The original posting for the gun was taken down by Gunbroker.com, which later released a statement saying:
Our site rules state that we reserve the right to reject listings at our sole discretion, and have done so with the Zimmerman listing.

We want no part in the listing on our web site or in any of the publicity it is receiving.
It was then picked up by United Gun Group. Zimmerman said that since the Department of Justice returned his pistol, he received wide interest from potential buyers. He even said the Smithsonian had asked to buy the gun—an assertion the Institution denied.
Zimmerman told FOX 35 in Orlando that he wanted to sell the gun because it was time to move on. When asked by a reporter if he thought it was crass to sell a gun that had killed someone, Zimmerman said, "Do I think it's distasteful to put it on auction, because someone died? No, I don't." If the pistol didn't sell, he told the news station, he'd stick it in a safe and no one would ever see it––until he gave it to his grandkids.
The auction ends in four days.