George Zimmerman's Designs to Profit From Trayvon Martin's Death
The pistol he used to kill the 17-year-old is now on sale at another website after it was pulled from sale at another auction site.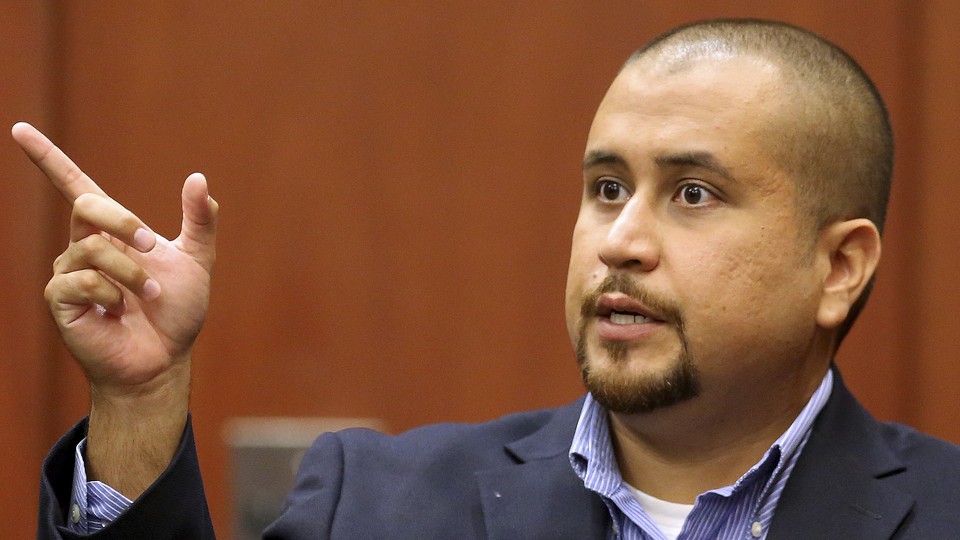 Updated on May 12 at 6:24 p.m. ET
The gun George Zimmerman used to kill Trayvon Martin and which he had hoped to sell Thursday now appears to be back on sale at another website—after it was pulled from the site where it was originally being auctioned.
The 9 mm Kel-Tec PF-9 pistol was initially listed for sale at Gunbroker.com, but the site later pulled the listing, saying:
Listings on the GunBroker.com web site are user-generated, exactly like social media posts. Mr. Zimmerman never contacted anyone at GunBroker.com prior to or after the listing was created and no one at GunBroker.com has any relationship with Zimmerman. Our site rules state that we reserve the right to reject listings at our sole discretion, and have done so with the Zimmerman listing.

We want no part in the listing on our web site or in any of the publicity it is receiving.
The site now listing it is United Gun Group, but that website appears to be down. In a statement on Facebook, that website said:
United Gun Group offers a free platform for law-abiding citizens to buy, sell, trade and discuss firearms and related products. United Gun Group's stance is that as long as Mr. Zimmerman (or any other UGG member) is obeying the letter of the law, his personal firearm sale will be permitted on our network. … He appears to be following all applicable laws.
Zimmerman, the neighborhood-watch volunteer, was acquitted of murder in the 2012 shooting death of Martin, a black 17-year-old, in Sanford, Florida. Here's an excerpt from the Gunbroker.com posting when it was still online:
Prospective bidders, I am honored and humbled to announce the sale of an American Firearm Icon. The firearm for sale is the firearm that was used to defend my life and end the brutal attack from Trayvon Martin on 2/26/2012. … Many have expressed interest in owning and displaying the firearm including The Smithsonian Museum in Washington D.C. This is a piece of American History.
The gun, Zimmerman says, was recently returned to him by the U.S. Department of Justice. He said he hopes to get at least $5,000 for the weapon, and a portion of the proceeds "will be used to: fight BLM violence against Law Enforcement officers, ensure the demise of" Angela Corey's career as a prosecutor, "and Hillary Clinton's anti-firearm rhetoric." His posting ends with the words "Si Vis Pacem Para Bellum," a Latin phrase that means "if you want peace, prepare for war."
BLM refers to the Black Lives Matter movement, which sprung up following several high-profile incidents in which white police officers killed unarmed black men. Corey is the Florida State Attorney who failed in her attempt to prosecute Zimmerman for killing Martin. She is up for re-election.
The Smithsonian, in a statement, denied it had expressed interest in the weapon.
The Smithsonian has never expressed interest in collecting George Zimmerman's firearm. The Smithsonian has no plans to ever collect or display this object in any of its museums.
The planned auction of the weapon prompted criticism Thursday. Indeed, Zimmerman told WOFL-TV in Orlando, Florida, he'd received several death threats after putting the gun up for sale. "What I've decided to do is not cower," he said. I'm "a free American. I can do what I want with my possessions."
Martin was walking to his father's home in 2012 when he was shot and killed by Zimmerman inside a gated community. The neighborhood-watch volunteer said he felt threatened by the 17-year-old and successfully argued in court that his actions were protected by Florida's Stand Your Ground laws.
Since that time, Zimmerman has been charged with assault following complaints from two girlfriends, who subsequently declined to cooperate with police, leading to the charges being dropped.
The auction for his weapon was set to begin at 11 a.m. EDT Thursday and end 24 hours later.
Reacting to the planned sale, Daryl Parks, an attorney for Martin's family, told The Washington Post: "It is insulting to this family that he would decided that he would sell the gun that he killed their child with. Think about what that means: This is a gun that took a child's life and now he wants to make money off of it."