The First Verdict in the Freddie Gray Case
Police officer Edward Nero has been acquitted of all four charges against him.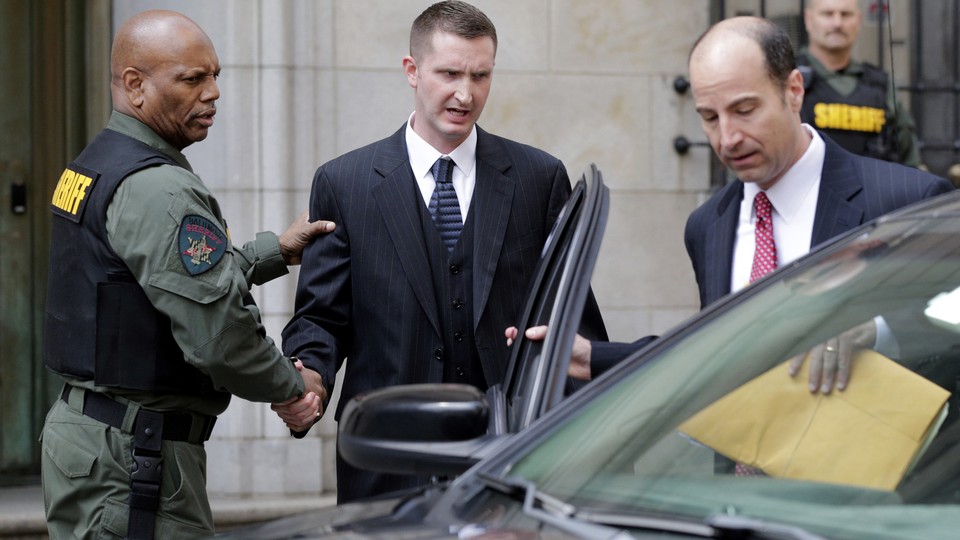 A Baltimore judge found police officer Edward Nero not guilty on Monday for his part in the arrest of Freddie Gray, a black man who died in police custody last year.
Nero was charged with second-degree assault, reckless endangerment, and two counts of misconduct in office. Prosecutors had argued that Nero assaulted Gray by detaining him without cause, and that placing him in a police van without fastening a seatbelt amounted to reckless endangerment.
Nero asked to be tried by a judge instead of a jury, and the decision from Judge Barry Williams comes after six days of hearings.  Nero is one of six officers charged in connection with Gray's arrest and death.
Baltimore Mayor Stephanie Rawlings-Blake said in a statement Monday:
This is our American system of justice and police officers must be afforded the same justice system as every other citizen in this city, state, and country. Now that the criminal case has come to an end, Officer Nero will face an administrative review by the Police Department. We once again ask the citizens to be patient and to allow the entire process to come to a conclusion.
The police officers arrested Gray on April 12, 2015 for reasons that remain unclear. Gray had attempted to run away. After he was detained and searched, officers found a switch blade in Gray's pocket, which is illegal to carry in Baltimore. Gray was loaded into a police van and placed in leg shackles. During the half-hour drive to jail, he sustained a spinal injury, which he died from in the hospital a week later.
In the days after his death, protestors marched and filled the streets, decrying the death of another black man after an encounter with police that year. The city nearly shut down for a few days as 2,000 National Guard troops patrolled the streets and enforced a curfew. The city's chief prosecutor called Gray's death a homicide, and Rawlings-Blake would later fire the police commissioner.
The first police officer to be tried in Gray's death was William Porter, who faced charges of involuntary manslaughter, second-degree assault, reckless endangerment, and misconduct in office. Like in Nero's case, prosecutors argued that Gray died because Porter never fastened Gray into seat belt, and that even after Gray was injured, the officer failed to call for medical help. In December, a judge declared a mistrial in the case against Porter.
After the news of Nero's not-guilty verdict, the Baltimore City Fraternal Order of Police, a police union, said:
Officer Nero is relieved that for him, this nightmare is nearing an end. Being falsely charged with a  crime, and being prosecuted for reasons that have nothing to do with justice, is a horror that no person should ever have to endure. Unfortunately, however, his relief is tempered by the fact that five other Police Officers, outstanding men and women, and good friends, must continue to fight these baseless prosecutions. None of these Officer did anything wrong. The State Attorney's office responded to the riots and violence in Baltimore by rushing to charge these Officers rashly and without any meaningful investigation.
The remaining officers have yet to stand trial. Officer Caesar Goodson Jr. has been charged with, among others, second-degree depraved-heart murder, which carries a possible 30 years. Lieutenant Brian Rice and Sergeant Alicia White are both charged with involuntary manslaughter and other offenses. Officer Garrett Miller is charged with second-degree assault and other offenses.