The First U.S. Cruise Bound for Cuba in 50 Years
The Carnival vessel, carrying 700 passengers, left Miami for Havana on Sunday.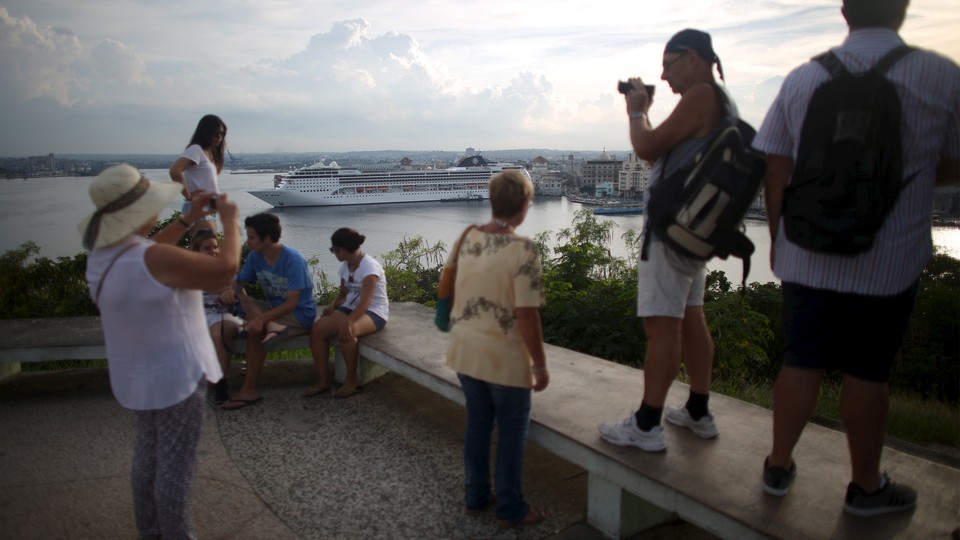 The first American cruise ship headed for Cuba in more than 50 years has set sail from Florida.
Carnival Cruise Line's Adonia departed Miami Sunday afternoon, carrying 700 passengers to the island nation for a seven-night trip. Its passage marks the latest milestone in the renewed relationship between the United States and Cuba, which in late 2014 agreed to restore diplomatic ties after five decades. The Cuban government approved Carnival operations to the country in March 2015, and the U.S. government granted the company permission to travel there in July 2015.
Mike Clary, a Sun Sentinel reporter who is aboard the Adonia and liveblogging the trip, provided some of the first details of the experience Sunday:
In the rooms, travelers were given a gift bag that contains a photobook of Cuba called "Unseen Cuba" and a Moleskine journal, and a keychain made in Cuba by a startup called Clandestina.

The cabin seems comparable to a New York City hotel room, but with a balcony and a better view.

People were waiting for departure by eating and having a drink. There is food everywhere.
Carnival has billed the cruise as a "cultural exchange" to "the real Cuba, up close and personal." Tickets started at $2,662 per person. Passengers will make stops in Havana, Santiago de Cuba, and Cienfuegos. The cruise's frequently asked questions webpage includes inquiries like "do travelers need to be physically fit?" (no), "what is it like in Cuba?" (really different), and "can travelers purchase Cuban cigars?" (yes). Tourism for U.S. citizens is still technically prohibited, but the U.S. government now allows "people-to-people educational travel," which, as the Associated Press put it earlier this spring, "is so broad it can include virtually any activity that isn't lying on a beach drinking mojitos."
Last month, two Florida residents sued Carnival for discrimination because the company barred Cuban-born Americans from purchasing tickets for the Adonia cruise. Carnival said it was complying with a Cuban law that bans Cuban-born people from arriving to the country by sea. The cruise company eventually reversed its policy after the Cuban government eased its regulations.
American businesses have been eager to enter the Cuban market since the two countries restored relations. During his historic visit to Cuba in March, President Obama brought with him CEOs from 11 U.S. companies, including Airbnb and Paypal, to meet with Cuban entrepreneurs.