The Long Airport Lines of Summer
As airport passengers face historically long security lines, the Transportation Security Administration says it's shorthanded.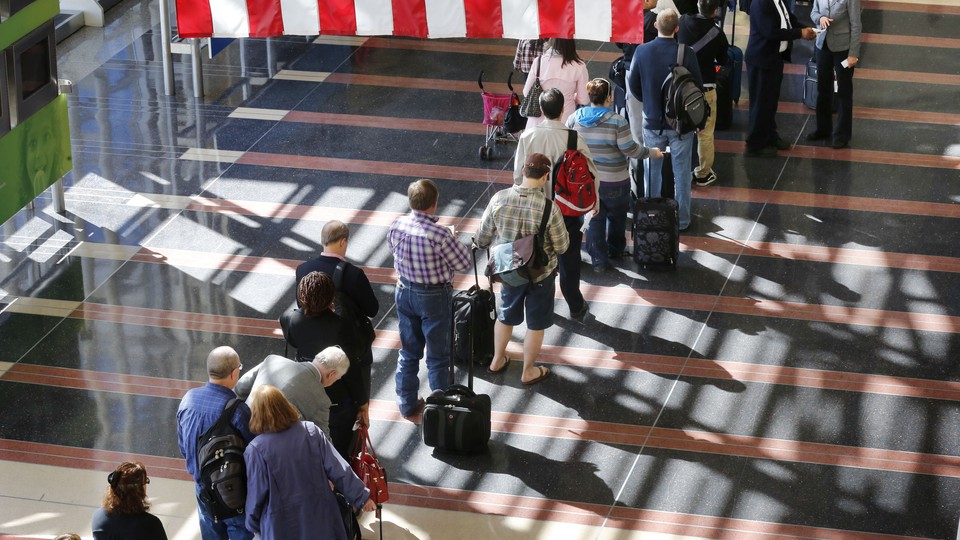 If passengers are flying out of Chicago's O'Hare airport, they need to arrive three hours before their flight.
That's what airport officials are telling passengers at one of the busiest airports in the United States. Security lines across the country have been historically long recently because of an increase in travelers, and the problem is expected to get worse in the upcoming summer months. While the Transportation Security Administration says it plans to hire an additional 800 officers this month, the union that represents security officers argues the agency needs to hire 6,000 more officers to address shortfalls nationwide.
The problem arises with the TSA doing more with less, reports the Chicago Tribune:
The TSA has received permission from Congress to shift $34 million to pay for additional officers. About $26 million will go toward additional hours for front-line officers, including more overtime and part-time officers, while another $8 million will be used to hire 768 officers this month instead of in September as planned.

The TSA now has about 42,000 officers, down from 47,000 in 2013. During the same period, passenger volume has risen 15 percent, to 740 million from 643 million, according to the American Federation of Government Employees, which represents TSA officers.
Lawmakers like Senator Dick Durbin, an Illinois Democrat, have said that if more people signed up for TSA PreCheck, it could ease the long lines. But according to TSA officials, only 7.25 million people have signed up, far short of the administration's goal of 25 million by 2019.
However, until then, there will be more horrifically long lines nationwide, like this one last week 30 miles south of O'Hare at Chicago's Midway airport.