California's New Drought Rules
Governor Jerry Brown announced Monday that the state will keep some of emergency drought measures and relax others.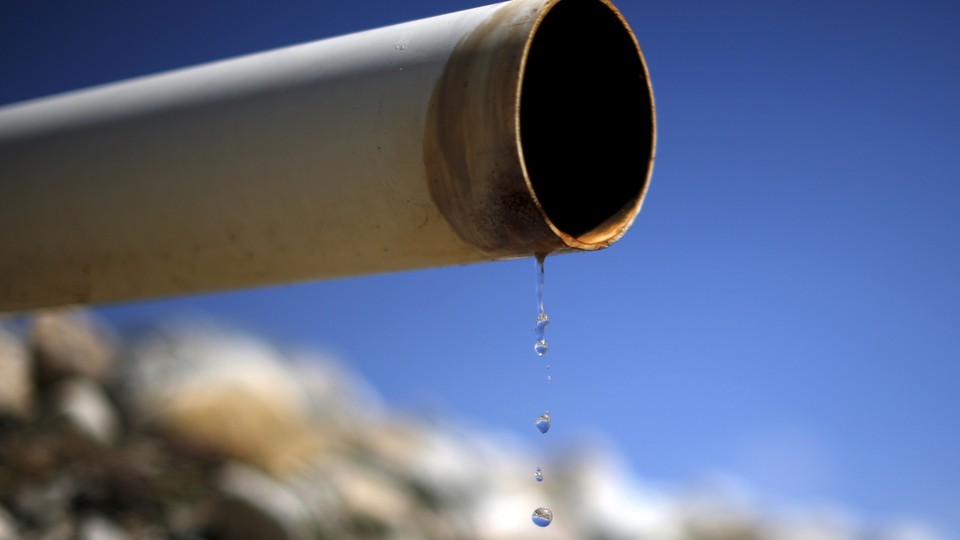 Governor Jerry Brown of California announced new changes to the state's water-use policies Monday, extending some of the regulations the government had adopted to cope with the state's ongoing, five-year drought and easing restrictions for those districts seeing more regular rainfall.
The changes include a ban on hosing down driveways or washing cars with hoses that lack a shut-off nozzle, and watering lawns within two days of a rainstorm. They also include reduced restrictions regarding mandatory water rationing.
Two of California's largest reservoirs have filled to 90 percent capacity, and this winter El Niño dropped plenty of snow in the mountains and helped the northern half of the state recover from years of record-low precipitation. But while some parts of California have returned to more regular rainfall, 90 percent of the state remains in a drought. Recognizing those differences, the State Water Resources Control Board also proposed Monday that each water district be allowed to set its own conservation limits. That change will be considered May 18.
The Los Angeles Times explains the shifting drought situation in recent years:
As the drought intensified, Brown last year ordered a statewide 25% cut in urban water use, the first mandate of its kind in California history. To achieve that, the water board set individual targets for communities. Those with the highest per-capita use were ordered to reduce water consumption by as much as 36%.

Since then, the state's overall urban use has dropped nearly 24% compared with 2013.

But water agencies up and down the state complained that the conservation targets didn't take into account regional climate differences, previous conservation efforts or alternative supplies such as desalinated seawater.
Still, the State Water Resources Control Board is planning on a much drier California in the next century. While a state law from 2009 already requires a 20 percent drop in per capita water use, officials are planning to push that number even higher.