Could 13 Stolen Paintings Be Buried Beneath an Old Mobster's Yard?
For the third time, the FBI is searching the home of Robert Gentile for artwork stolen 25 years ago from the Isabella Stewart Gardner Museum.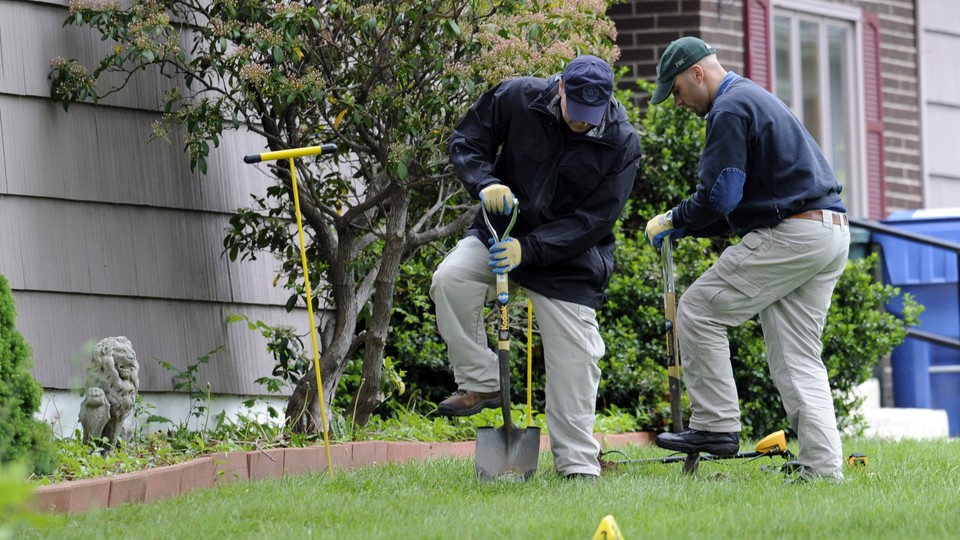 For 25 years, the FBI has searched for 13 paintings––including a Vermeer, a Flinck, a Manet, and three Rembrandts––stolen from the Isabella Stewart Gardner Museum in 1990, when two men dressed as police tied up guards and made off with the art. Twice, the FBI has searched the Connecticut home of Robert Gentile, a 79-year-old former mobster. And on Monday, agents searched a third time.
Gentile is awaiting trial on a federal weapons charge after agents raided his home in April 2015. He has been held without bail, so he wasn't home as the FBI dug up his yard and tore apart his home. But the Hartford Current reported that his son and wife were there to watch:
Agents arrived in about 15 cars, with two search dogs and three trucks with heavy equipment. The U.S. attorney's office in Connecticut had no comment on the search, which covered the house and the entire yard.

By midafternoon, agents focused their attention on the west side of the house near the chimney. They tore what appeared to be a vent pipe off the side of the house and pulled off part of the siding. They also began digging on the lawn near the base of the chimney with shovels and rakes.

About a dozen agents and officials congregated around the spot until about 3 p.m. when agents strung a line and hung a plastic tarp to prevent onlookers from seeing the activity. It was unclear what they were searching for, but neighbors said there is an underground oil tank in the area where agents were digging.
The search began a third time, because a federal prosecutor told a judge in Connecticut that Gentile had mentioned to three people he had access to the paintings. The Boston Globe reported that federal prosecutors even said Gentile had offered to sell the paintings in 2015 to an undercover agent, for $500,000 each (a fraction of their combined $500 million value). This was after the wife of a deceased mobster told authorities her husband had handed two paintings to Gentile around 2004, when they met in the parking lot of a lobster house in Maine.
Gentile's nickname was "The Cook," which he received because he often made the meals when he and his mob associates met at a garage in Hartford, Connecticut. His connection with the mob stretches to the 1950s, and he once worked as muscle. Now, he uses a wheelchair to get around, has diabetes, high blood pressure, and heart disease. In 2015, when the FBI arrested Gentile on charges of selling a loaded revolver to an informant, The New York Times said Gentile "may be the last living person who can lead them to the masterpieces taken in the largest art heist in American history."
Through his lawyer, A. Ryan McGuigan, Gentile has maintained he has no idea where the paintings are. "If they didn't find them in the first two searches," McGuigan told The Boston Globe, "how could they find them this time?"