Arizona Sheriff Joe Arpaio's Contempt of Court
A federal judge found the Maricopa County sheriff failed to follow an order related to a racial-profiling case.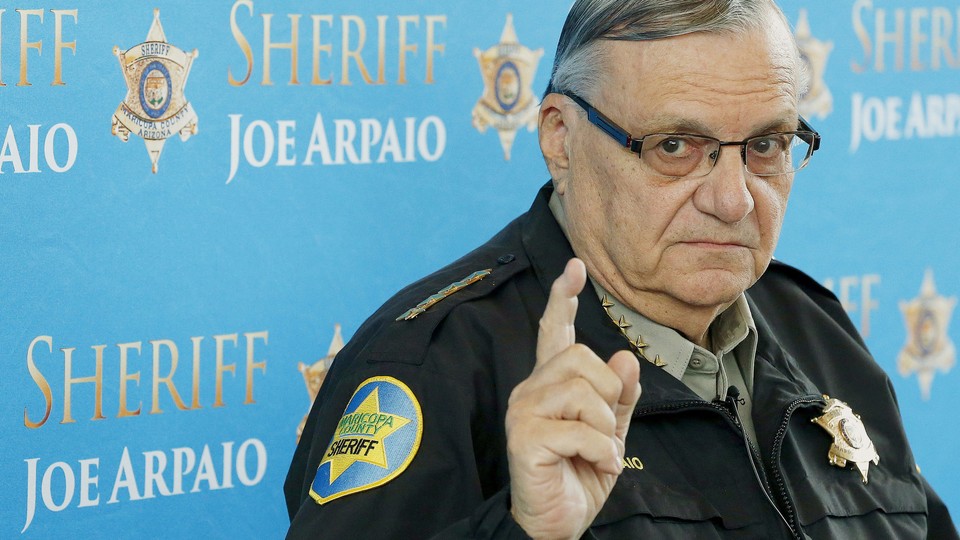 A federal judge ruled Friday that Joe Arpaio, the Maricopa County, Arizona, sheriff who became famous for his stance on immigration, was in civil contempt of court for failing to follow an order stemming from a racial-profiling case.
Three years ago, U.S. District Judge Murray Snow ordered the Maricopa County Sheriff's Office, which Arpaio heads, to stop racially profiling people during traffic stops––mainly while conducting immigration sweeps aimed at Latino neighborhoods. After Arpaio's seeming resistance to follow the order, Snow started hearings a year ago to determine whether Arpaio and the deputies were in contempt of court.
It all stems from a complaint the sheriff's office racially profiled Latinos. The Arizona Republic reported that:
The hearings were based on three alleged violations: that the Sheriff's Office failed to turn over video evidence that was required before the racial-profiling trial; that officials continued to enforce immigration law after Snow barred the practice; and that Chief Deputy Jerry Sheridan failed to quietly collect evidence after the trial, as Snow had ordered him to do.

Arpaio and Sheridan have both acknowledged the failures but deny the violations were willful. The distinction could mean the difference between civil and criminal contempt, and served as the primary topic for debate in Snow's courtroom.

The hearings, which started with four days of testimony in April and resumed with 16 additional days of testimony in the fall, often turned into a much broader discussion that focused on the sheriff's enforcement priorities and whether he was more interested in settling political scores than rooting out the racial profiling that Snow found in the Sheriff's Office.
The original complaint against Arpaio came from a Mexican tourist, legally in the U.S., named Jesus Ortega Melendres, who was pulled over by Arpaio's deputies while a passenger in a car with a white driver, and detained for nine hours. With the help of the American Civili Liberties Union, he filed a complaint against the Sheriff's Office in the U.S. District Court District of Arizona. Eventually, two Latino siblings also joined the complainant.
In 2011, Snow issued an injunction that prohibited deputies from targeting Latinos in traffic stops, and in 2013 he appointed a court monitor to see Arpaio complied.
The ruling on Friday sets up a possible criminal contempt-of-court proceeding against the Maricopa County sheriff.