The American Casualties in the Fight Against ISIS
Three U.S. service personnel have been killed in Iraq since October 2015.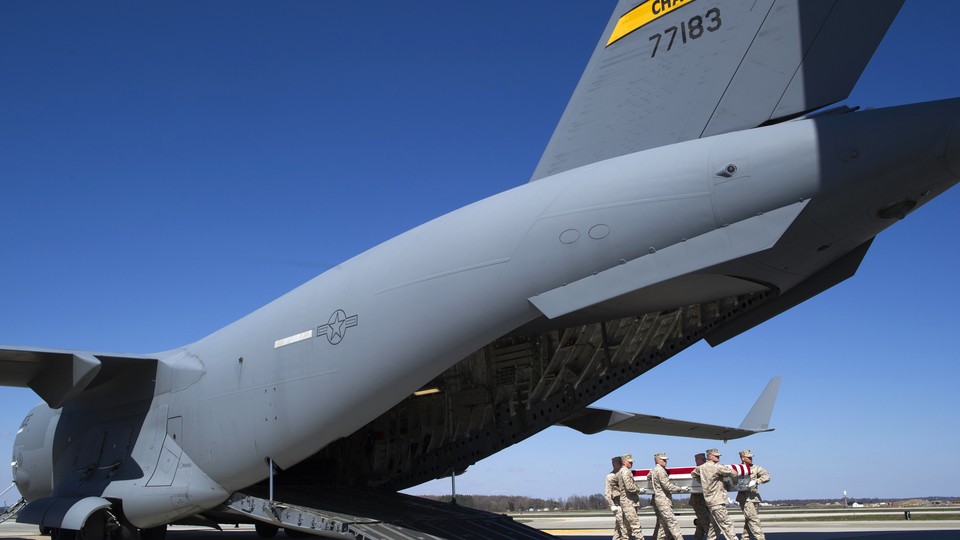 More than 4,000 American troops died in the eight-plus years of the Iraq War that ended in 2011. But over the past year or so, the U.S. has introduced small numbers of special-operations forces and others to advise and support Iraqi troops in their fight against the Islamic State. Three Americans have been killed in that effort since last October. The U.S. announced the latest death on Wednesday: a Navy SEAL killed in fighting near Irbil. A day later, U.S. Defense Secretary Ash Carter said the fight against ISIS "is far from over."
Carter identified the slain Navy SEAL as Petty Officer 1st Class Charles Keating, 31. Keating was the grandson of Charles Keating, the banker at the center of the savings and loan scandal of the 1980s. The San Diego Union-Tribune reported that Keating lived in Coronado, California, and was engaged to be married in November. He was a graduate of Arcadia High School in Phoenix where he was a standout runner. Keating was a student-athlete at Indiana University, which he attended from 2004 to 2006, according to the university. The Union-Tribune reported Keating then attended the Naval Academy and in 2008 passed the tryout process for the SEALs.
Here are the other Americans killed in Iraq since last October:
Marine Staff Sergeant Louis Cardin: Cardin, 27, was killed March 19, 2016, when ISIS militants fired rockets at a coalition base in Makhmur, Iraq. Eight other Marines were wounded in the attack on the base. Cardin was an artilleryman with Battalion Landing Team, 2nd Battalion, 6th Marines. The Marine Times reported Cardin that joined the Marines in 2006 after graduating from Chaparral High School in Temecula, California. He was based at Camp Lejeune, North Carolina, and had deployed four times to Iraq and Afghanistan.
Army Master Sergeant Joshua Wheeler: Wheeler, 39, a member of the Army's Delta Force, was killed on October 22, 2015, during a raid on an ISIS compound in Hawijah, Iraq, that included a prison. He was among a group of Delta Force operators who had accompanied Kurdish peshmerga fighters, ostensibly to offer support during the operation. When the Kurdish attack stalled, Wheeler responded, said Carter back then. "He ran to the sound of the guns," he said, adding: "I'm immensely proud of this young man." Wheeler was a highly decorated combat veteran who had been deployed 14 times to Iraq and Afghanistan. The father of four, Wheeler, who had grown up poor in rural Oklahoma, was thinking of retiring from the Army, The New York Times said in a profile. Wheeler's military honors included four Bronze Stars for valor in combat and seven Bronze Stars for heroic or meritorious service in a combat zone. Wheeler, a 1994 graduate of Muldrow High School in Muldrow, Oklahoma, enlisted in 1995. In 1997, he joined the Army Rangers. From 2004, the Times profile said, he was assigned to Army Special Operations Command in Fort Bragg, North Carolina. Wheeler was the first American to die in combat in Iraq since 2011.