America by Air: Watering the Plants
Editor's Note:
This article previously appeared in a different format as part of The Atlantic's Notes section, retired in 2021.
A lush and colorful scene from reader Brian Burk: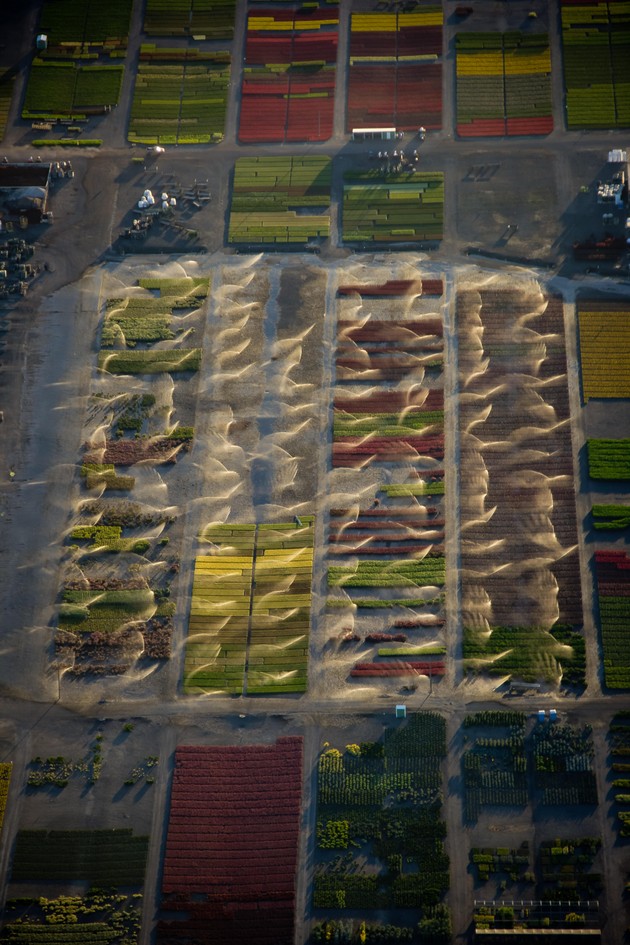 This photo was taken leaning out the open side window of a Cessna 172. The date is July 15, 2013, and I was participating in a "day in the life of Oregon" photography project called Project Dayshoot+30. Thirty years to the day before this shot was taken, a group of photographers had captured images from around Oregon on July 15, 1983, and a reprise of the project was organized in 2013 to commemorate the original venture.

This is a photo of a tree and plant nursery near the town of Monmouth, in the Willamette Valley south of Portland. The time is approximately 8:15 PM, and the midsummer sun is finally starting to set, nicely capturing the spray of irrigation spigots on the colorful plants.

This shot is special to me for many reasons. It reminds me of the natural beauty of my home state of Oregon and of the importance of the Willamette Valley to the history of the U.S. It is also special because of the wonderful day my father and I had shooting photos of Oregon from the air. Dad was in the back seat of the airplane, and my friend Jill Smith was next to me in the co-pilot seat. We finished our journey after dark at Troutdale Airport, my home field, just outside of Portland, where we had begun before dawn that morning. We were exhausted but joyful.